Watchmaking Equipment for Sale

---




This is equipment that I have acquired over the years or that I am selling for other watchmakers. It is in good useable condition and they are generally things that will not be found on ebay. Feel free to make offers but understand if I decline to accept your price. Scroll down to view timers, Levin attachments, WW collets cleaning machines and other important pieces for sale.
Nikon Microscope with boom stand. Excellent scope for working at the lathe, bench mill or bench drill press. You can see without getting your nose in the way or hitting the work with your 10 x loupe. Look at the working distance. Can also be used for oiling the escapement without getting the plates dirty from your nose. The focuser has two capture screws to keep the head in the mount while allowing it to freely rotated. Nikon 10 X 21 eyepieces. I included a view so you can get an idea of what you see through the eyepieces; although it cannot convey the advantage of stereoscopic view which you cannot get with a loupe. Note: shooting a photo through an eyepiece does provides a very limited field of view; you see much more when you look through the eyepieces.
To see how I use microscopes in my work, go to my Microscopes in Watchmaking Page.
This scope was well cared for and the optics are all clean and bright. Scope, eyepieces, focuser and boom stand.
Price: $275 plus shipping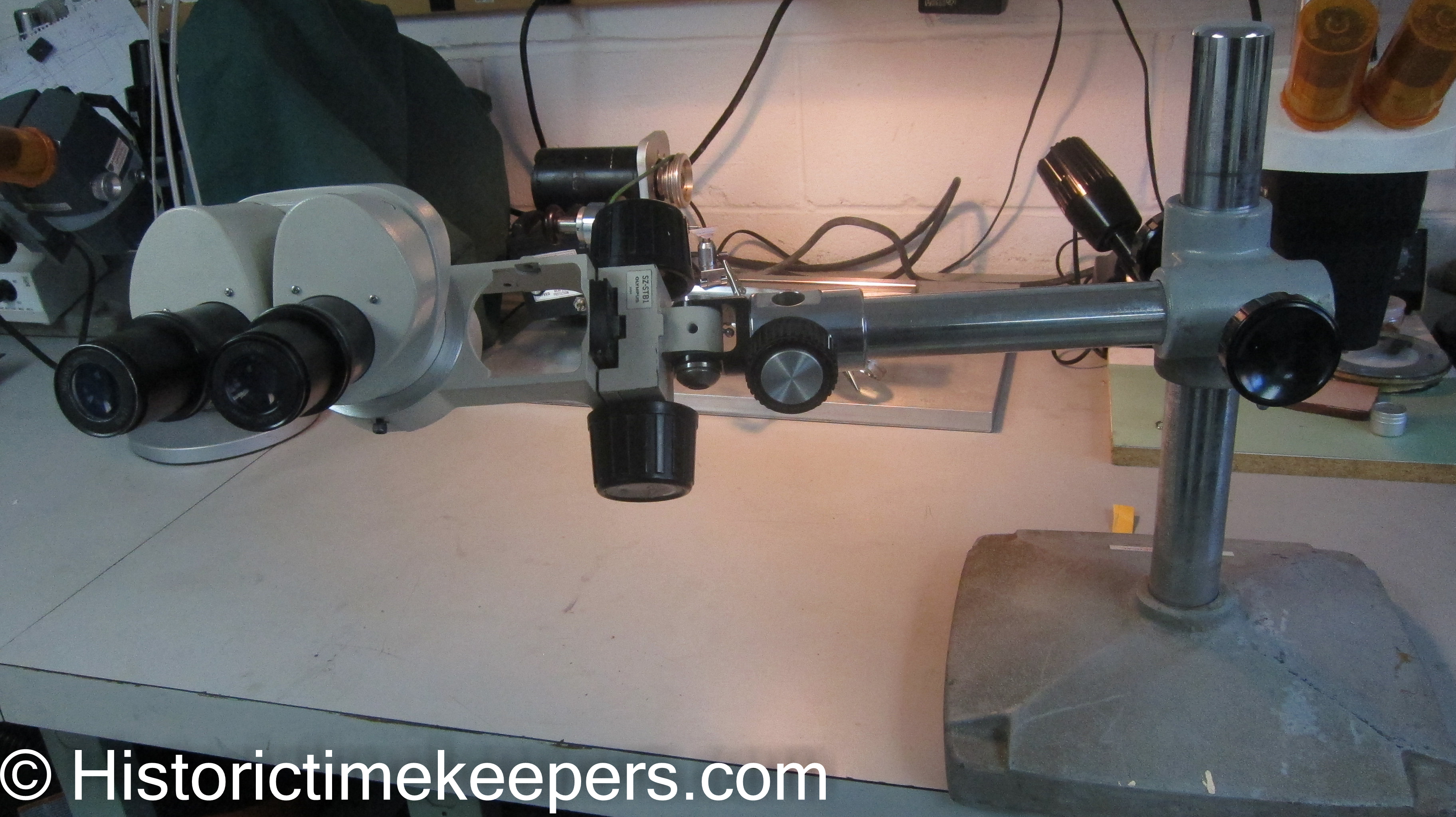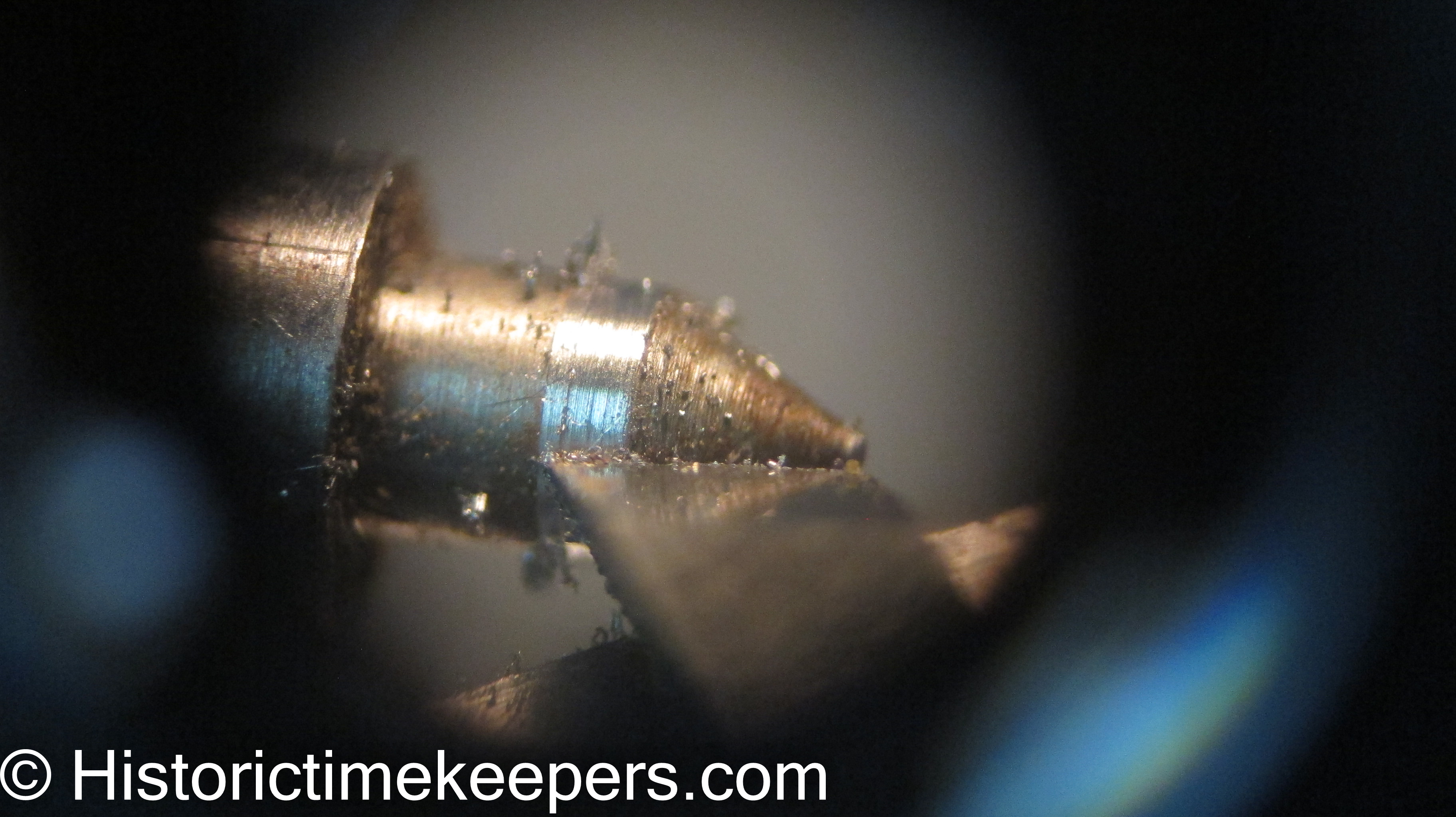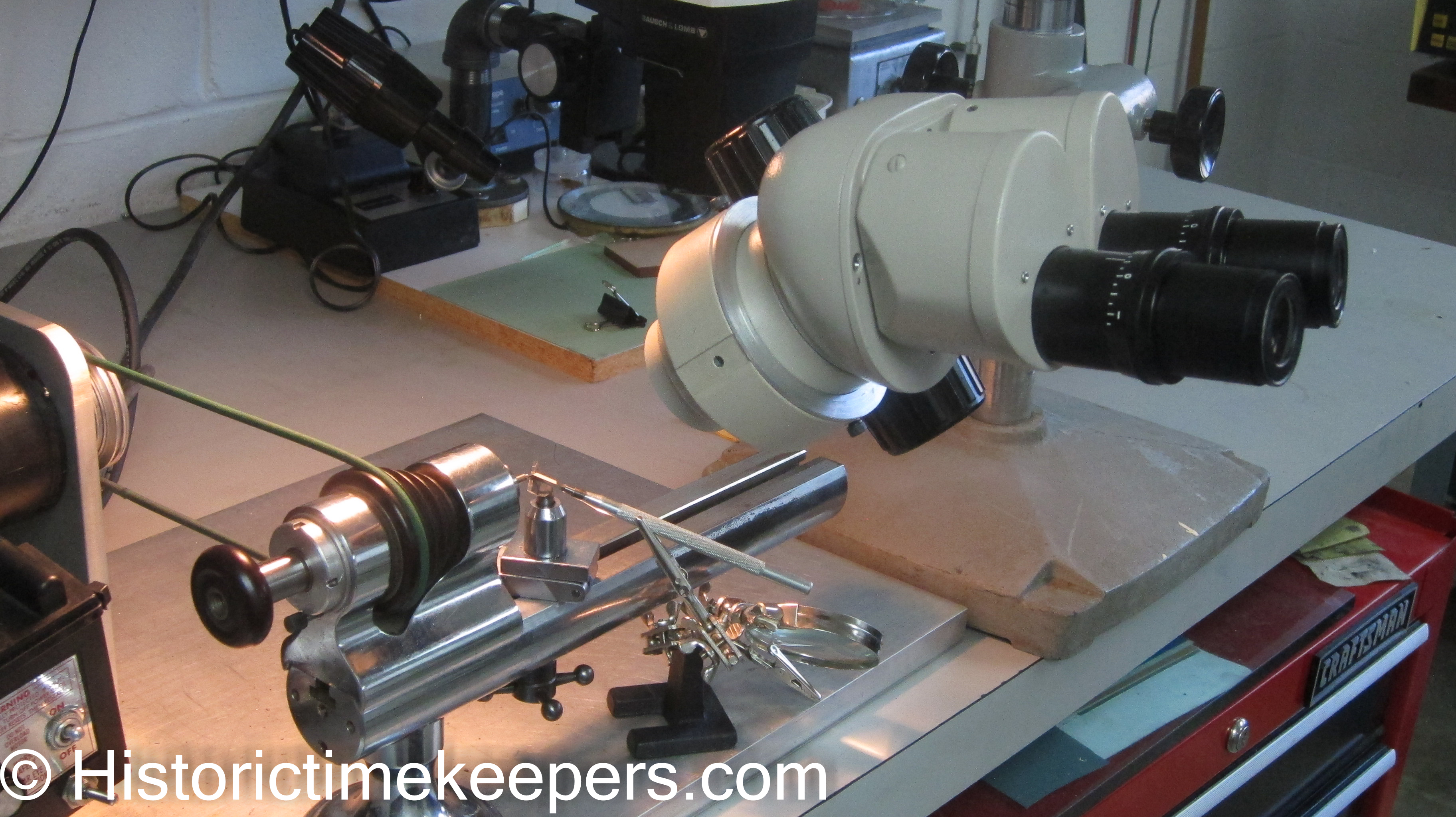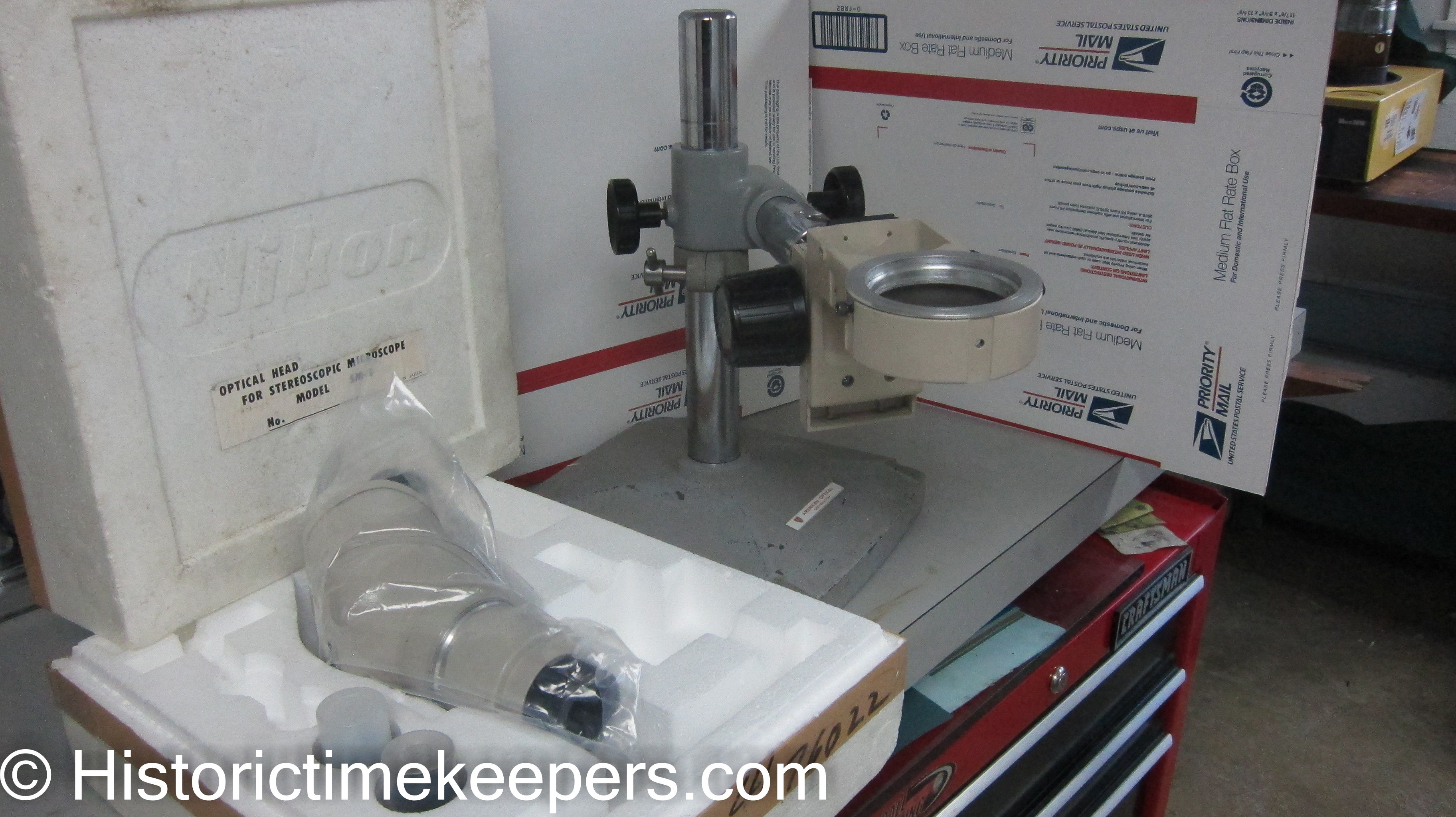 American Optical Model 570 Stereo Microscope With AO 10 wide field eyepieces and microscope illuminator. Optics are clear and bright with lots of contrast. Zoom from 7X to 42X. Makes movement inspection and lubrication a breeze; especially escapements. A lot easier than trying to see with a 10X loupe while your head is moving. AO was the workhorse of American quality assurance departments in electronics and manufacturing. Plenty of working distance for assembly or adjustment work. The 570 was AO's high resolution model and sold for over $1000 in 1990 without stand, lenses or illuminator.
Because of "floaters", a loupe is near useless to me. I now use 3 different scopes, one at the bench for assembly and lube, one for micromachining on the turns, lathe, Sherline mill and Levin drill press, and one that zooms to 70X for finding damage on parts that interferes with their function. Makes working fun again.
This instrument is absolutely clean. The focus is smooth. The zoom is parfocal (stays in focus throughout the zoom range) and the image stays centered throughout the zoom range as well. These are the critical things to look for when buying a stereo microscope.
To bring the scope to parfocal you must adjust it to your vision (I have it adjusted for vision corrected to 20/20 but some people like to remove their glasses). This adjustment is easy but critical. All good stereo scopes have an adjustment on each eyepiece. On some, like the AO, the right eyepiece is locked with a setscrew leaving different users with just the left eyepiece to adjust. At maximum zoom you adjust for perfect focus through the right eye. Then you zoom down to minimum focus. The right eyepiece should still be in focus. Now adjust the left eyepiece so it is in focus. Zoom back to max magnification and both eyes should be in focus, or you may have to touch the focus very slightly. Now zoom back out and focus should be perfect wherever you set the zoom.
All good scopes, AO, B&L, Nikon, Olympus, Leica will be parfocal and keep the image centered. Many of the imports are assembled without attention to the optical details needed for this to happen which is why many who try to use microscopes for watch work put them away. Only a good make scope is used in the long term.
Note the working distance with the pallet bridge in focus. Plenty of room to work!
Price: $335 plus shipping SOLD!!!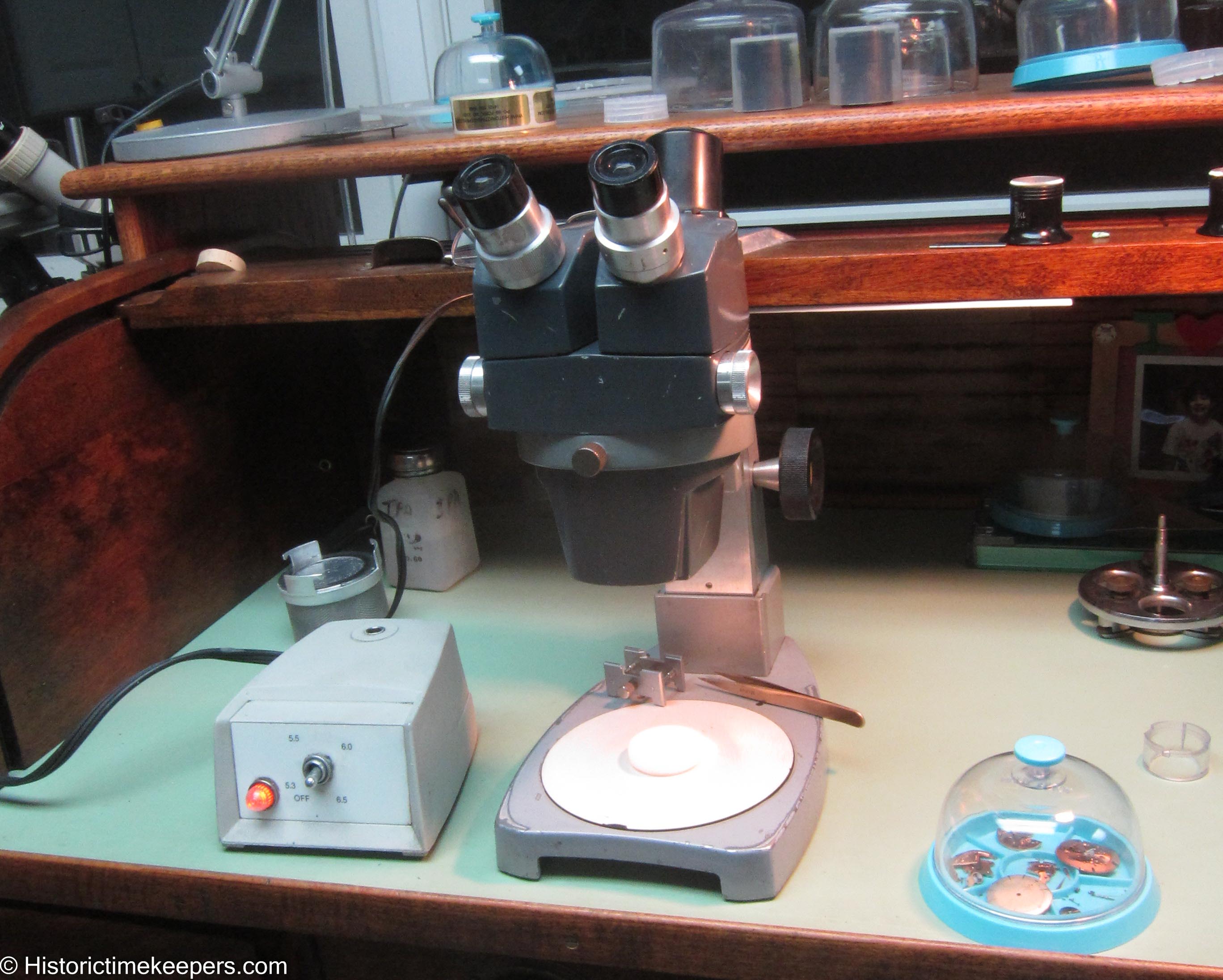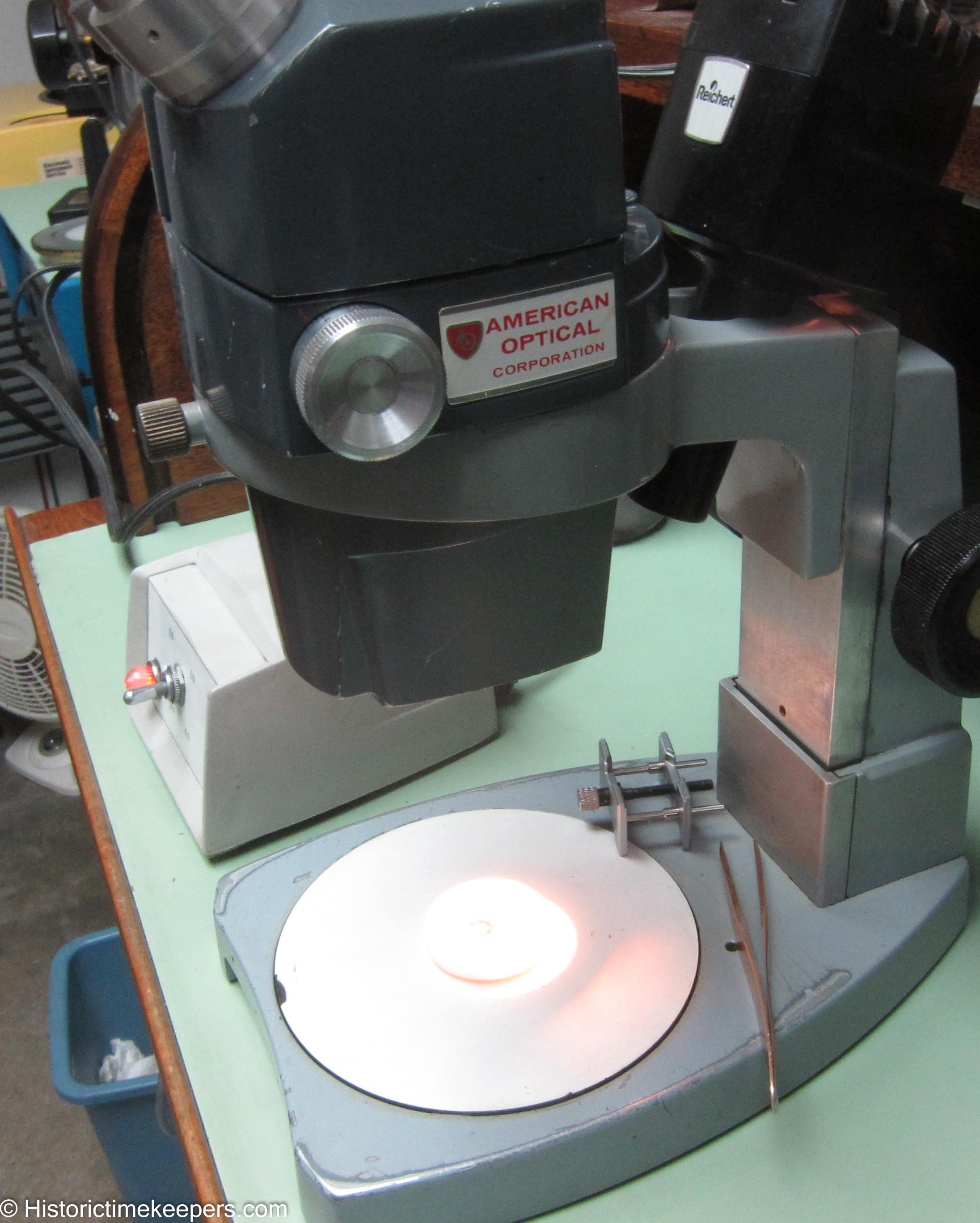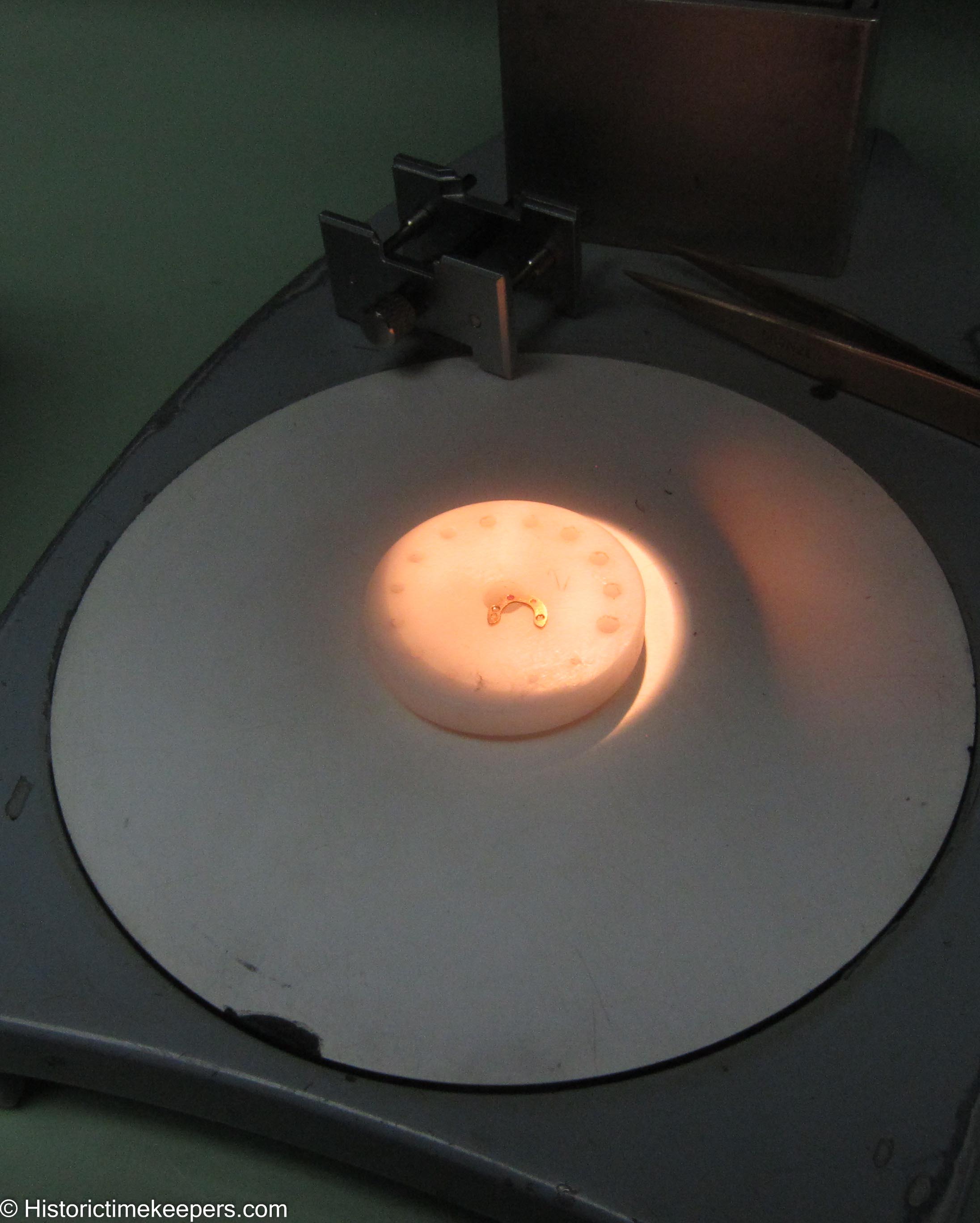 Horia/Steiner/Bergeon Jacot Tool. Excellent condition tool with 4 runners. All notches and lanterns (including the two spares) are in perfect condition. This is an excellent tool for a Wostep graduate or a worker who wants to do precision timing. Either you know how to use this tool or you do not. There is a waiting list at Horia for brand new sets at $3000.
Price: $750 SOLD!!!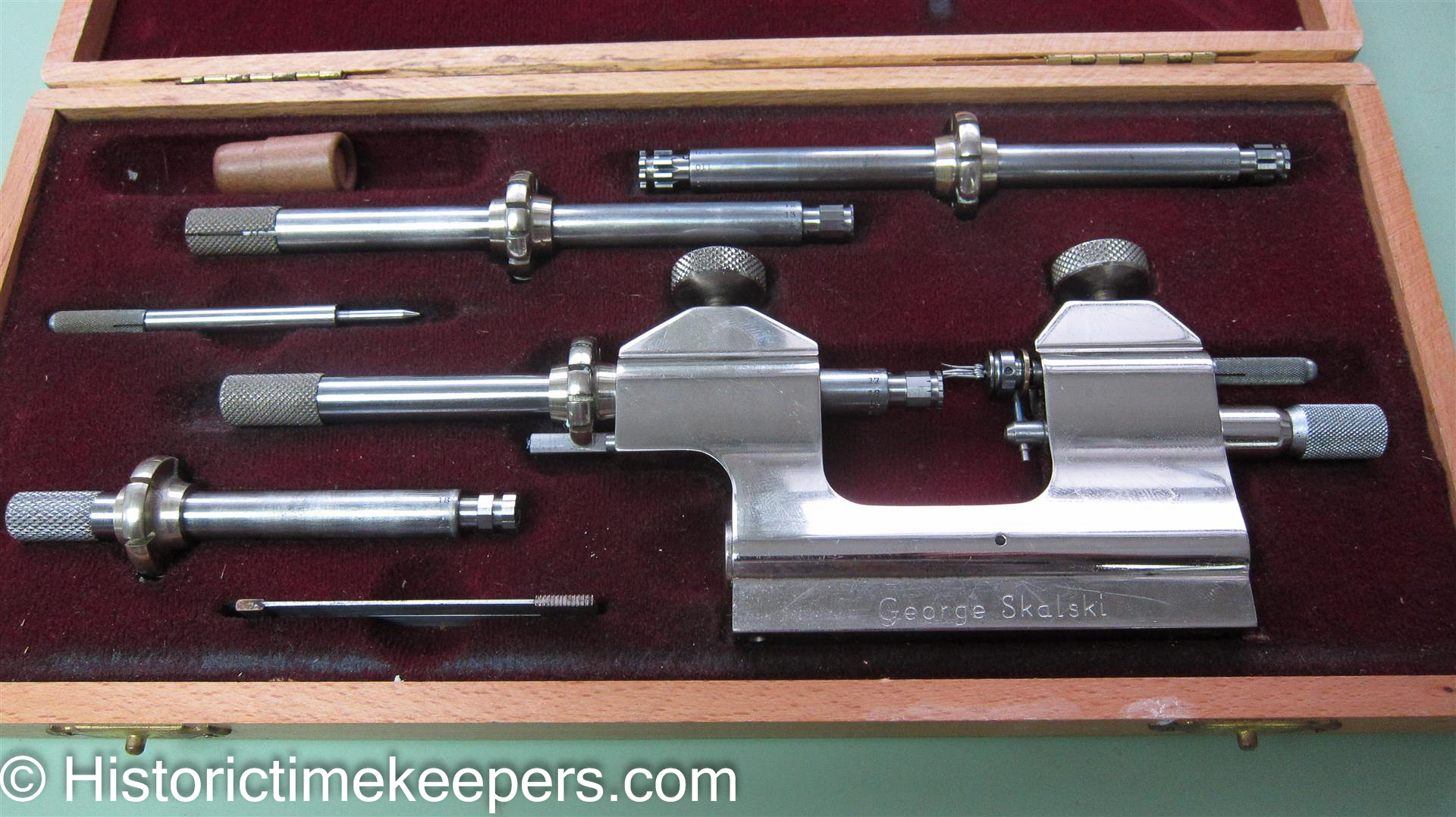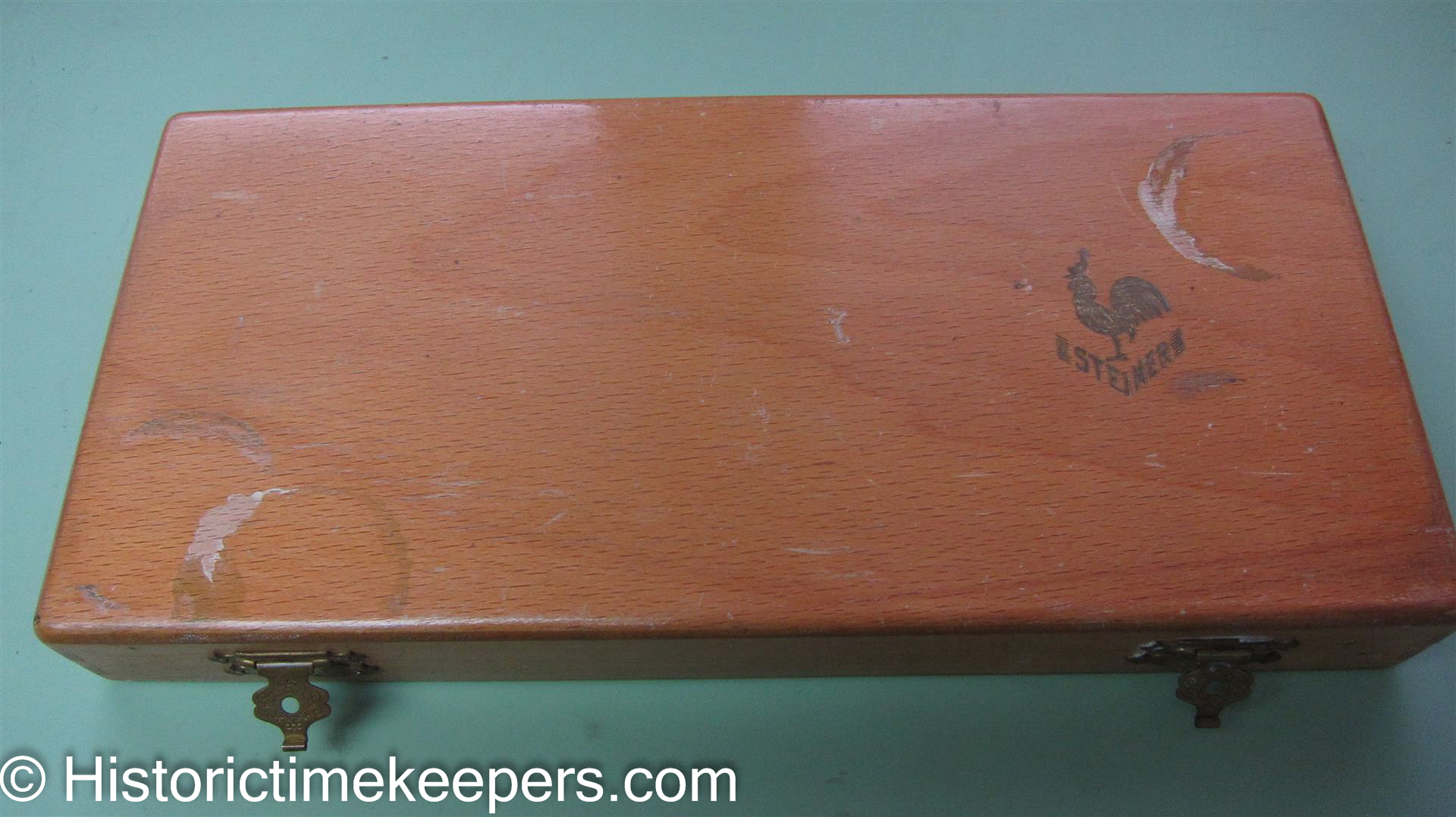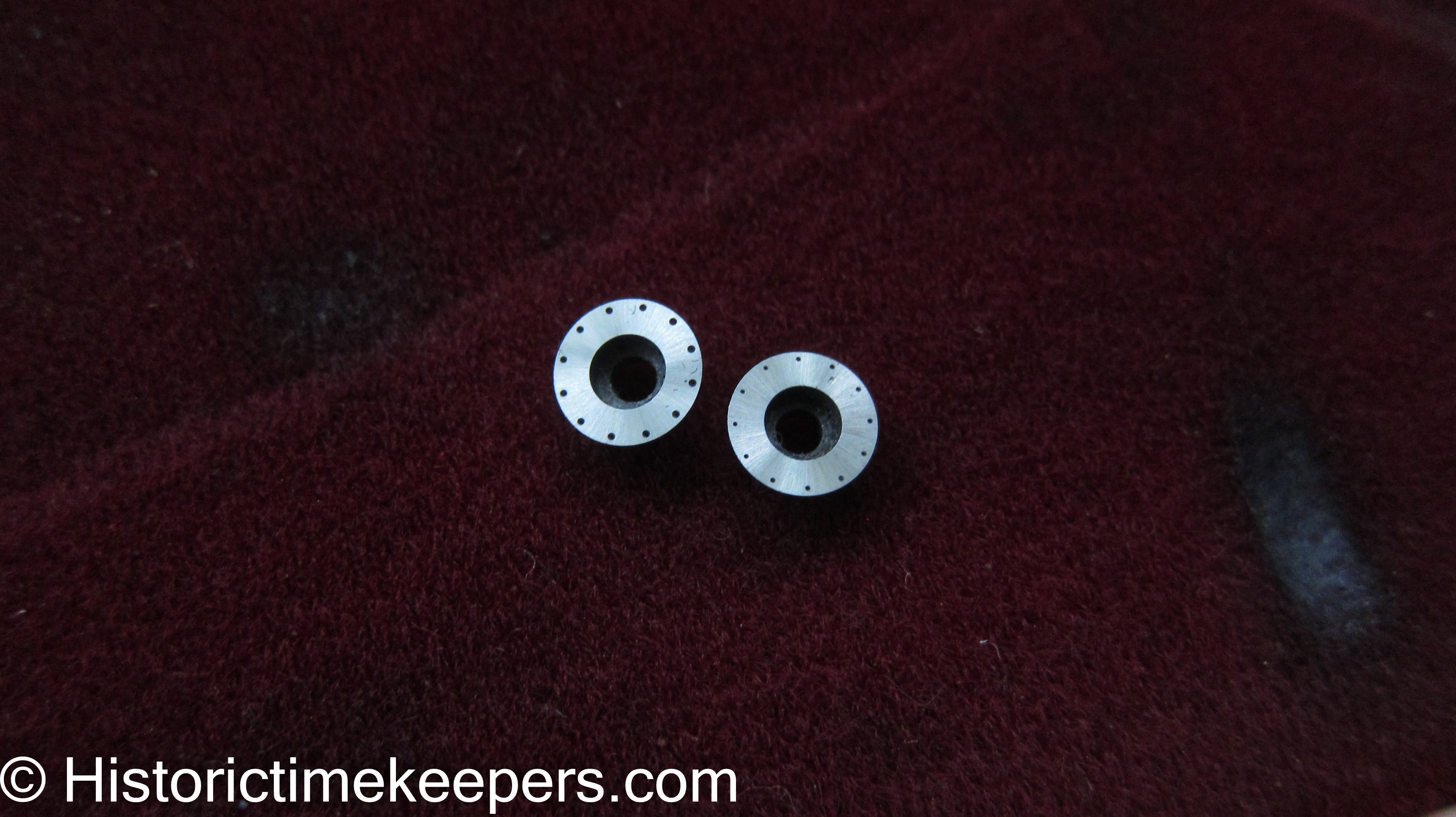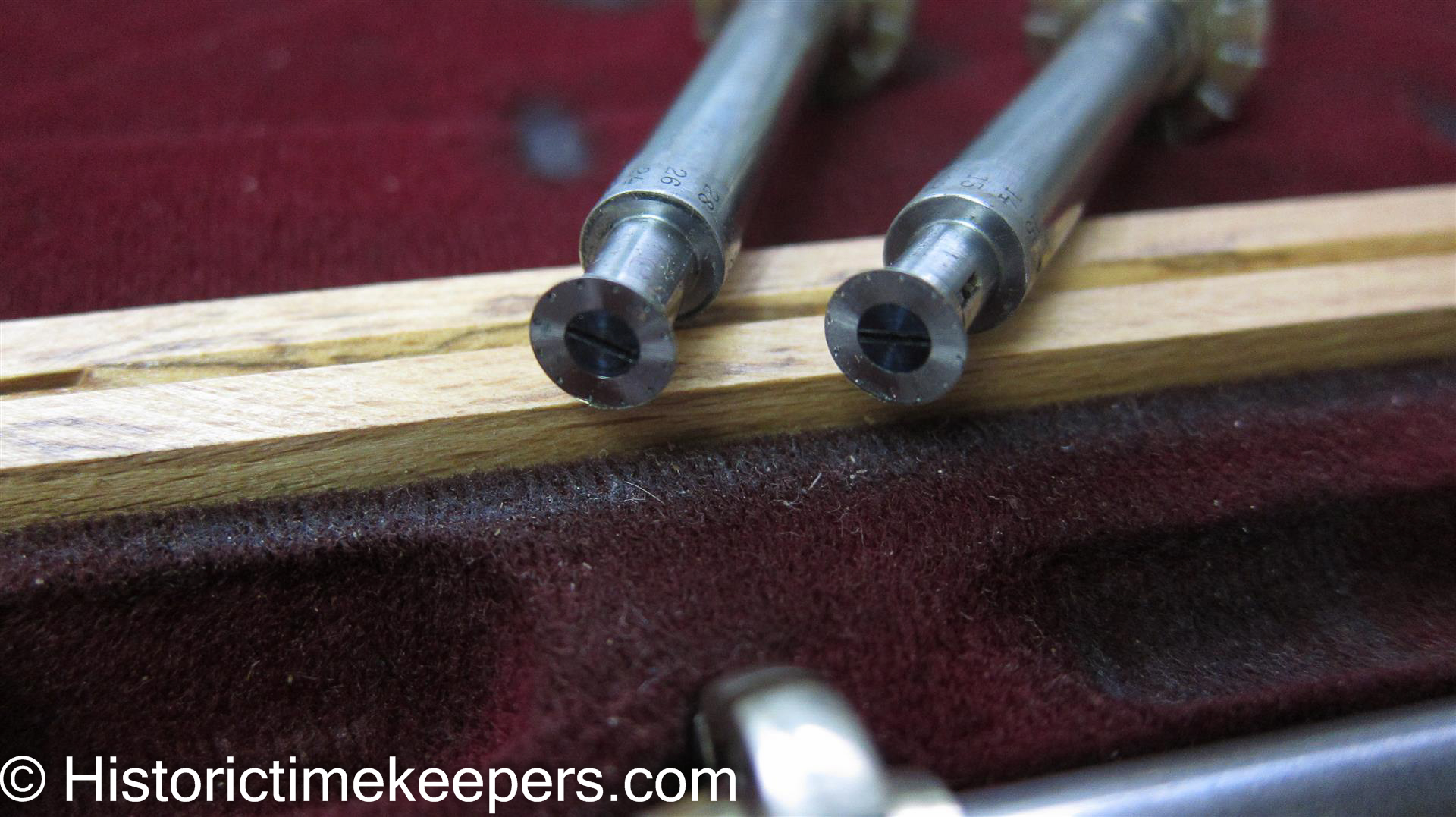 Witschi Watch Expert II Watch Analyzer. (Retired watchmaker) This is the minimum instrument now required for ANY watch account. It is capable of reporting the performance of the Omega Co-Axial watches. Rate, beat amplitude all displayed at one time. Instructions and original shipping box included. In original box. Oh, and it works perfectly of course.
Price: $1650 SOLD!!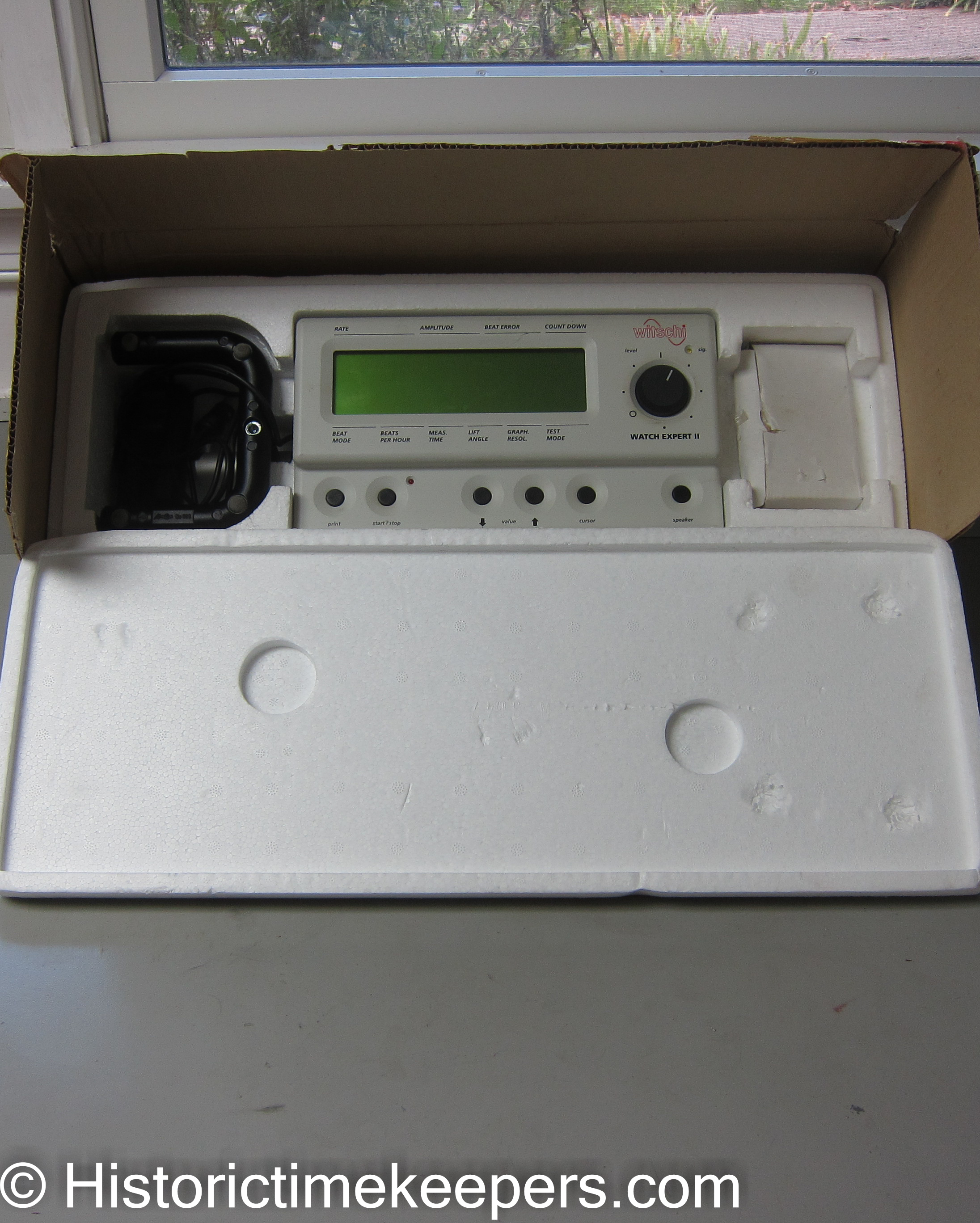 Vibrograf MU 700 Watch Analyzer. (Retired Watchmaker) This was a service center level instrument for 3 decades, it was really only superseded by the requirements needed to service Omega Co-Axial escapements. It reports rate (scales to plus or minus 2 sec/day), beat error and amplitude. At the time, it was the only instrument that accurately reported the amplitude of cased watches making it possible to verify the final performance of cased automatic watches. It also reports the rates of quartz and tuning fork watches.
Far more useful than the old paper based machines that require special paper and ink. Plus, it uses very easy to read selectable LED scasle without having to push buttons. Unlike the paper based machines, this also reports amplitude, And it does Accutron and Quartz timing!
I prefer this instrument and I use one at my bench. The LED displays are much simpler to read than the Witschi Watch Expert. Plus it reports a wider range of beat error than the Watch Expert so you can more easily track changes as you move the balance spring collet. All functions work, microphones are original to this instrument and comes with a copy of the operating instructions. I have the original sales VibrografUSA sales contract for my MU-700 which show these units cost $2500 when new; that is about $4000 in today's dollars.
Price: $675 SOLD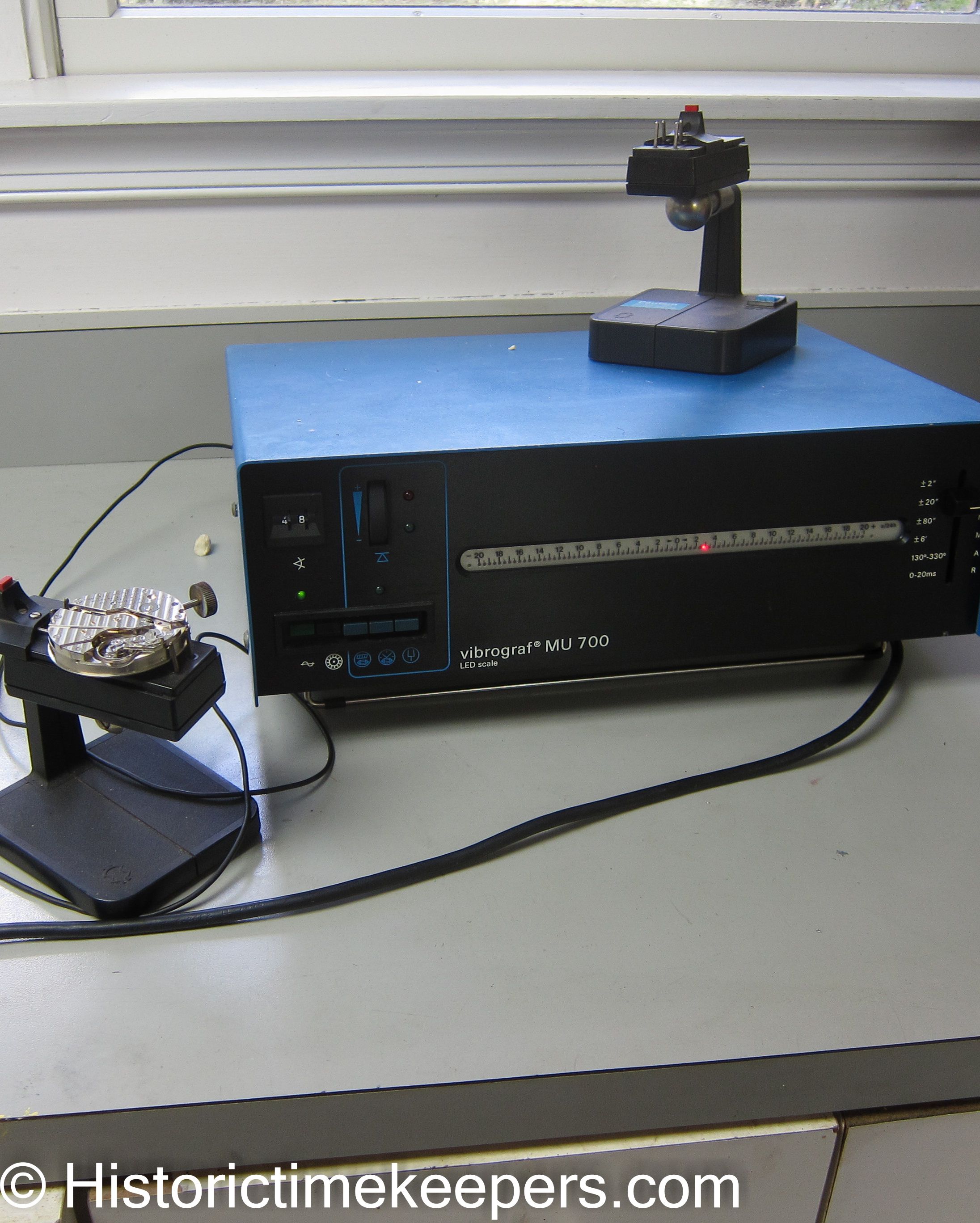 Complete Set of Levin Index Plates (w/ Latch) for Cutting Gears and Pinions. This includes several shop made latch plates to make some non standard parts. Hubs are bored for the Levin 10mm lathe spindle; but I do know they fit my Levin 8mm Ball Bearing headstock.; but you can sleeve them or make new ones for an 8mm lathe. Every original no. plus some I made: 300,240,200,158,156 100, 98, 96,92,90,(2),88,86,84,82,80,78,77,76,75,74,73,72,71,70,69,68,67,66,65,64,63,62,61,60,59-51. Levin spring latch and latch spring stop. This will fit ont ot the 10mm lathe with no modifications. May need to make a mount for other lathes.
I used this set for years before I got the indexing attachment for my 102. Now I cut everything on that lathe. Used this on a Levin 10mm headstock mounted on the milling machine listed below.
Price: $1100 SOLD!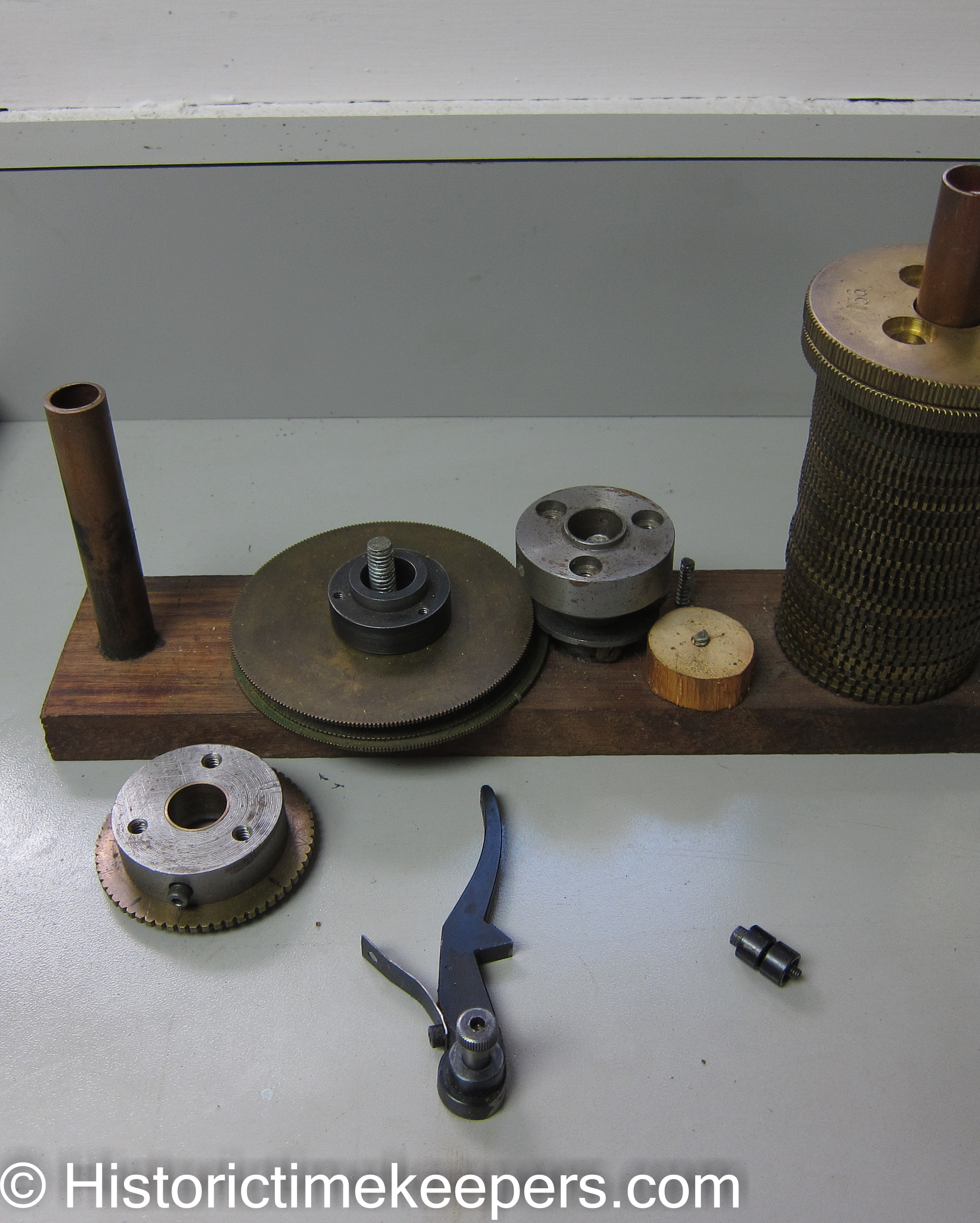 Horizontal Mill for Gear and Pinion Cutting. This was my gear cutting machine for years until I got everything I needed to do it conveniently on my 102. I have been hesitant to sell it because it is such a good machine; but that is silly. It is made in Germany by RJS. That is all I know. As you can see it has very substantial slides and the largest ball bearing headstock I have seen on any benchtop machine. Convenient oiling points. Set of collets and shop made cutter arbor adapter. No idea what series collets, they even stumped Dave Sobel who really liked this machine when he saw it. They are marked "Star" (I think this is the Japanese machine tool maker). Included is the PWM controller and DC motor. Lever table (for gear cutting) which can be converted to screw feed (old atlas lead screw) for pinion cutting. WW bed mounted on table for your WW headstock. It is very nice because you can move around on the bench to check your alignments. Footprint is 18 in X 18 in. Very small for what it is; The belt slot in the back indicates it was orignally pedestal mounted but it works great on a well built shop bench (I think it weighs around 200 pounds). I would prefer we meet within two hours drive of Baltimore to avoid shipping; this is very heavy and I would hate for it to be damaged in shipment. If desired, I will make a package deal of this and the Levin Indexing setup as long as the indexing setup is not sold.
I never used the collets because of the arbor adapter; but: 1/8,5/32,9/32,11/32,38,7/16,1/2,9/16.
Price: $2200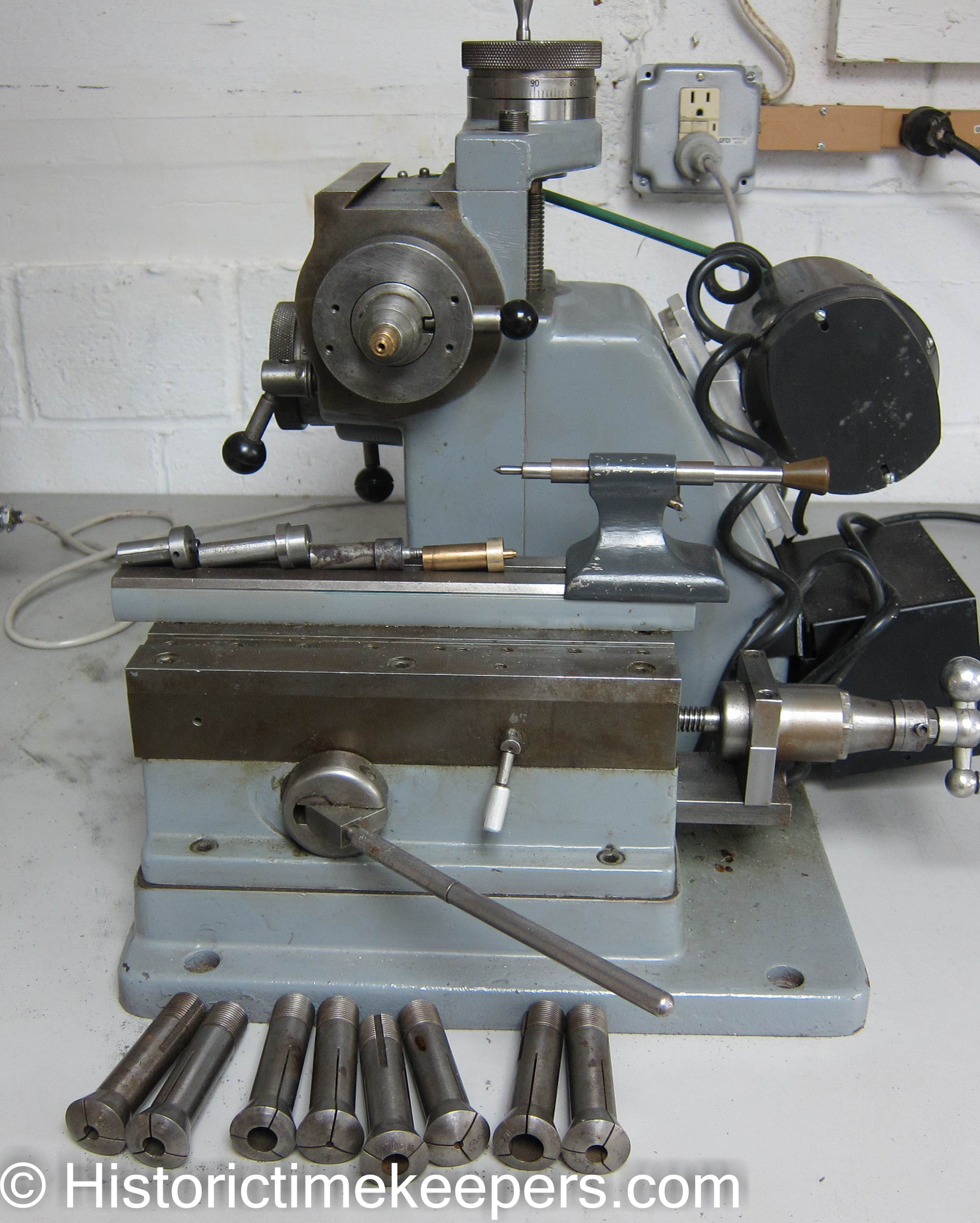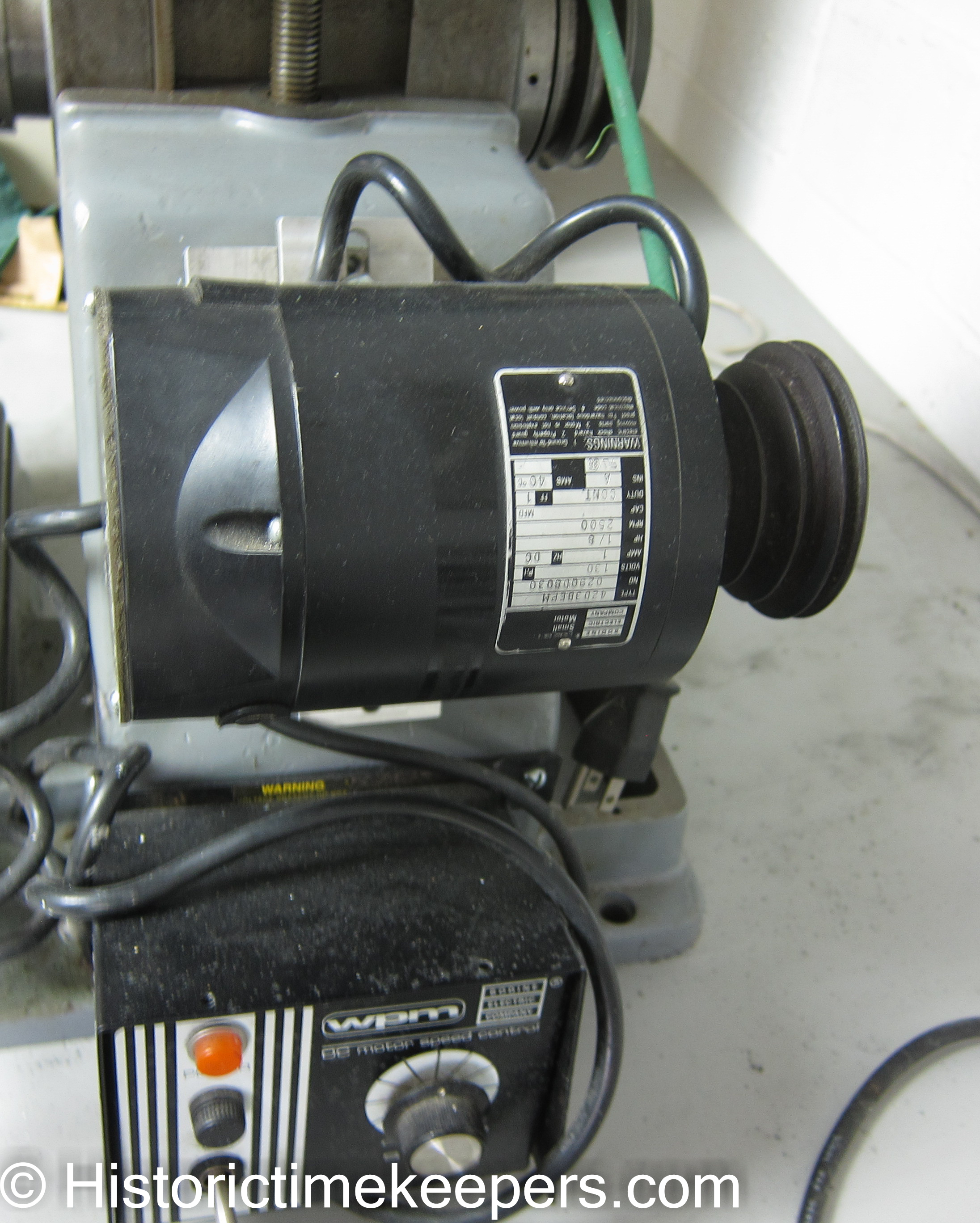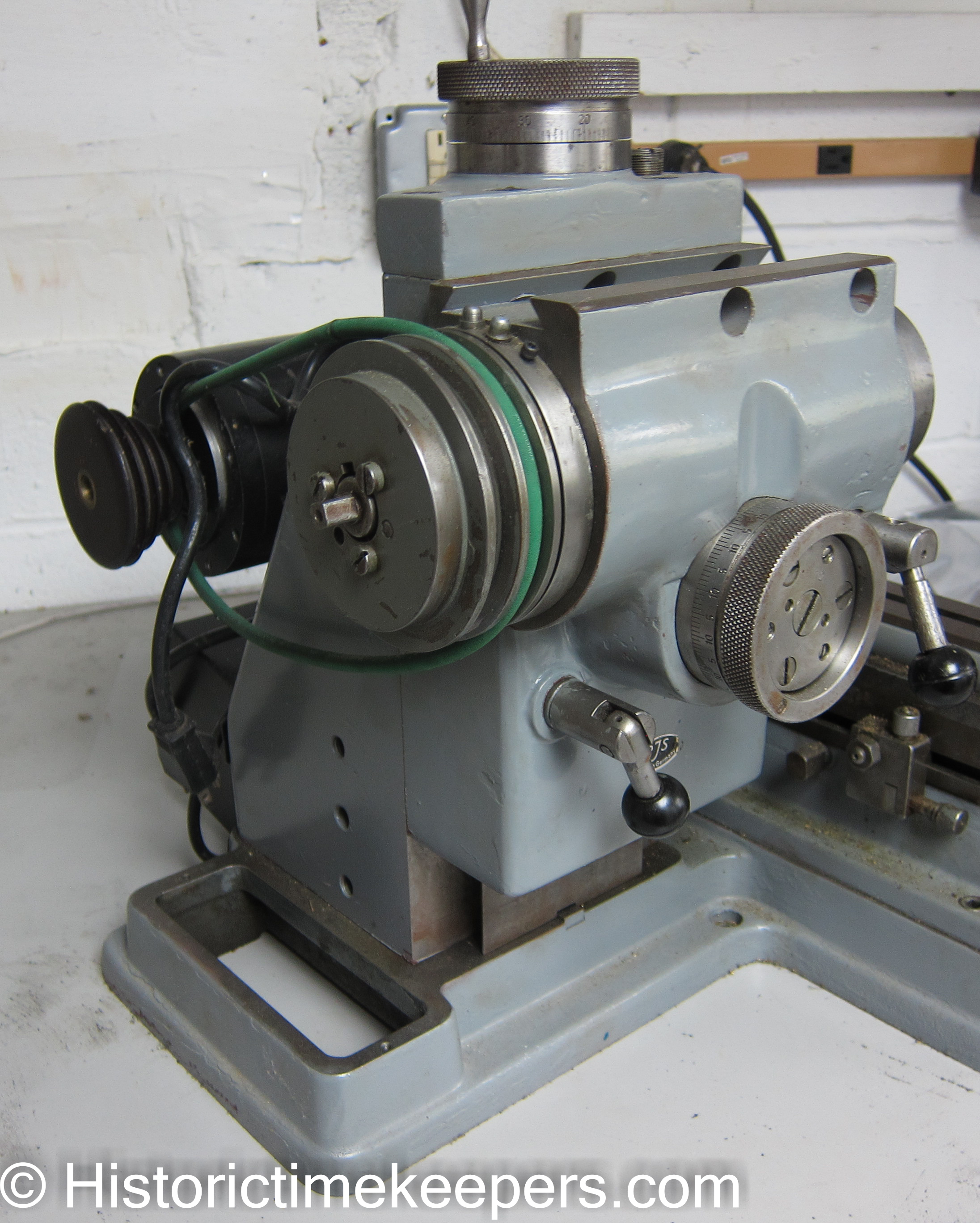 Levin WW 8mm Grinding/Milling Spindle. (Retired Watchmaker) This spindle is in excellent condition. Ball bearings are smooth with no crunchiness. This has two bases; one is the original Levin grinding attachment base for mounting on the sliderest. The other base is a very nicely shop made base to use the spindle for precision grinding dowels and pins on a surface grinder (a poor man's centerless grinder). Comes with the pulley for setup as a grinding attachment and knurled knob for use as a spin fixture on its base. The base for spin grinding is a VERY nice piece of work.
Price: $475 SOLD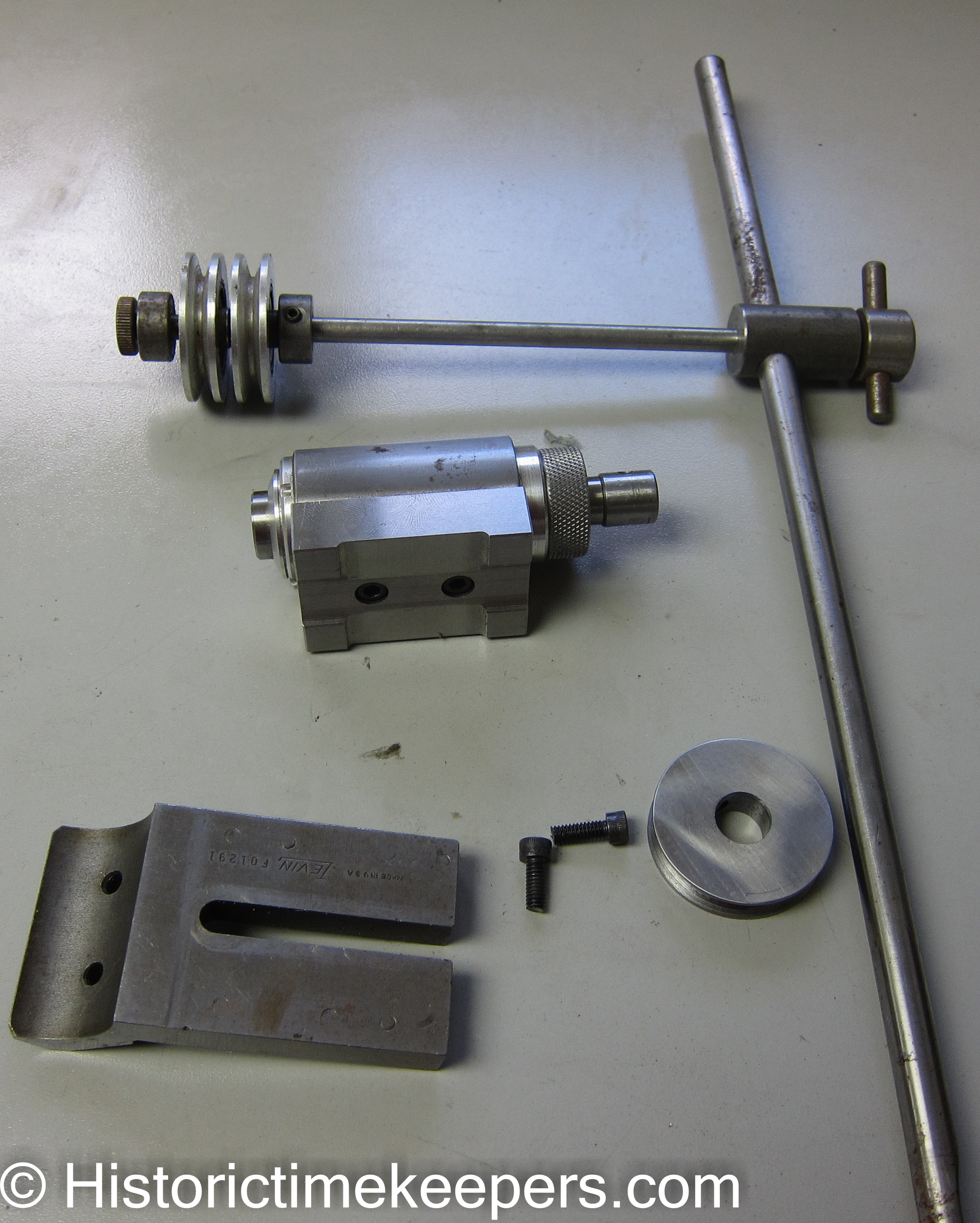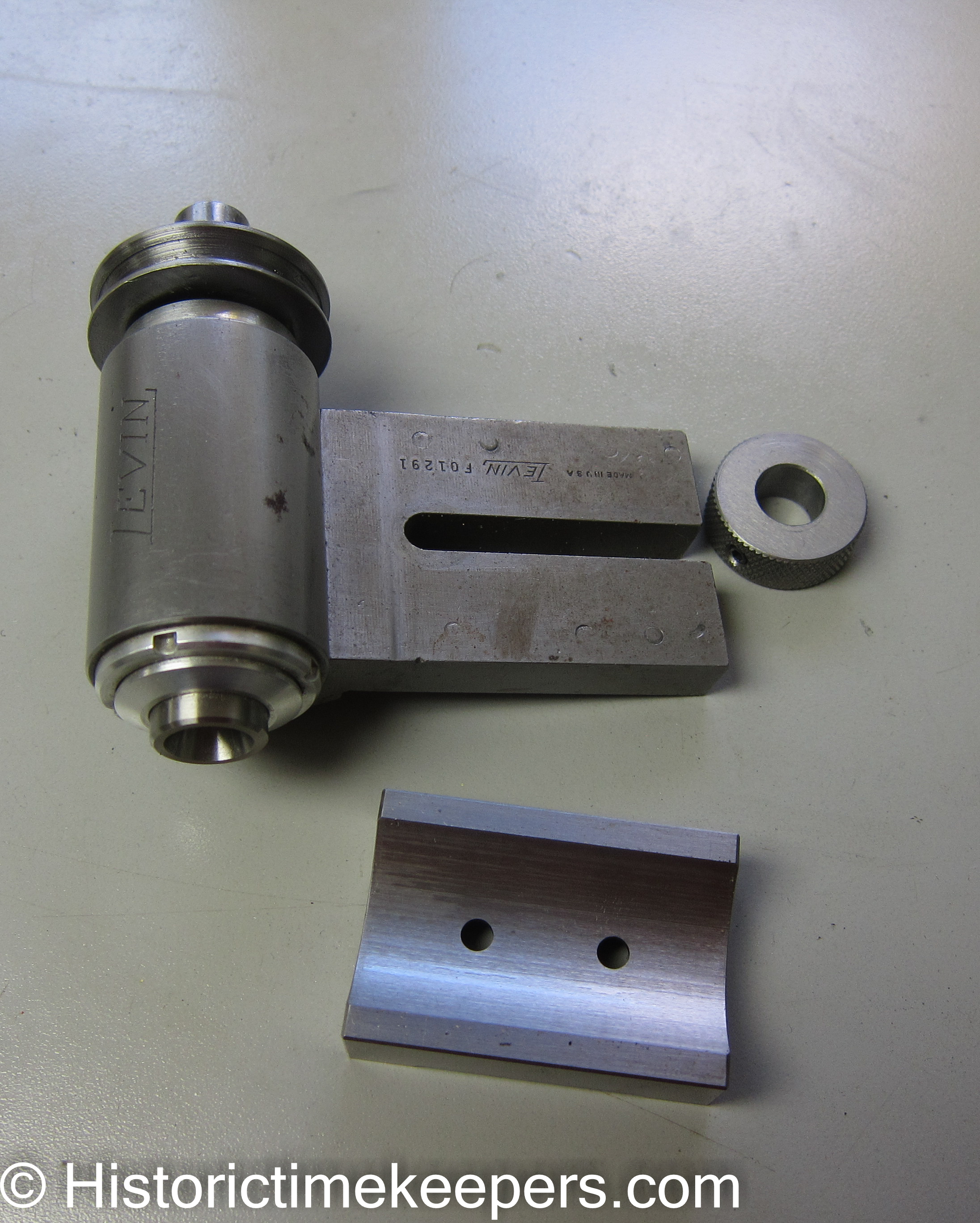 Levin WW 8mm Lathe Collets (Fractional). Set of 13 Levin Fractional collets, incomplete but hard to find. 1/64 through 15/64 missing 9/64 and 3/8. The bores are all in excellent shape. These can be a lifesaver when stock will not fit a metric collet.
Price: $140 SOLD!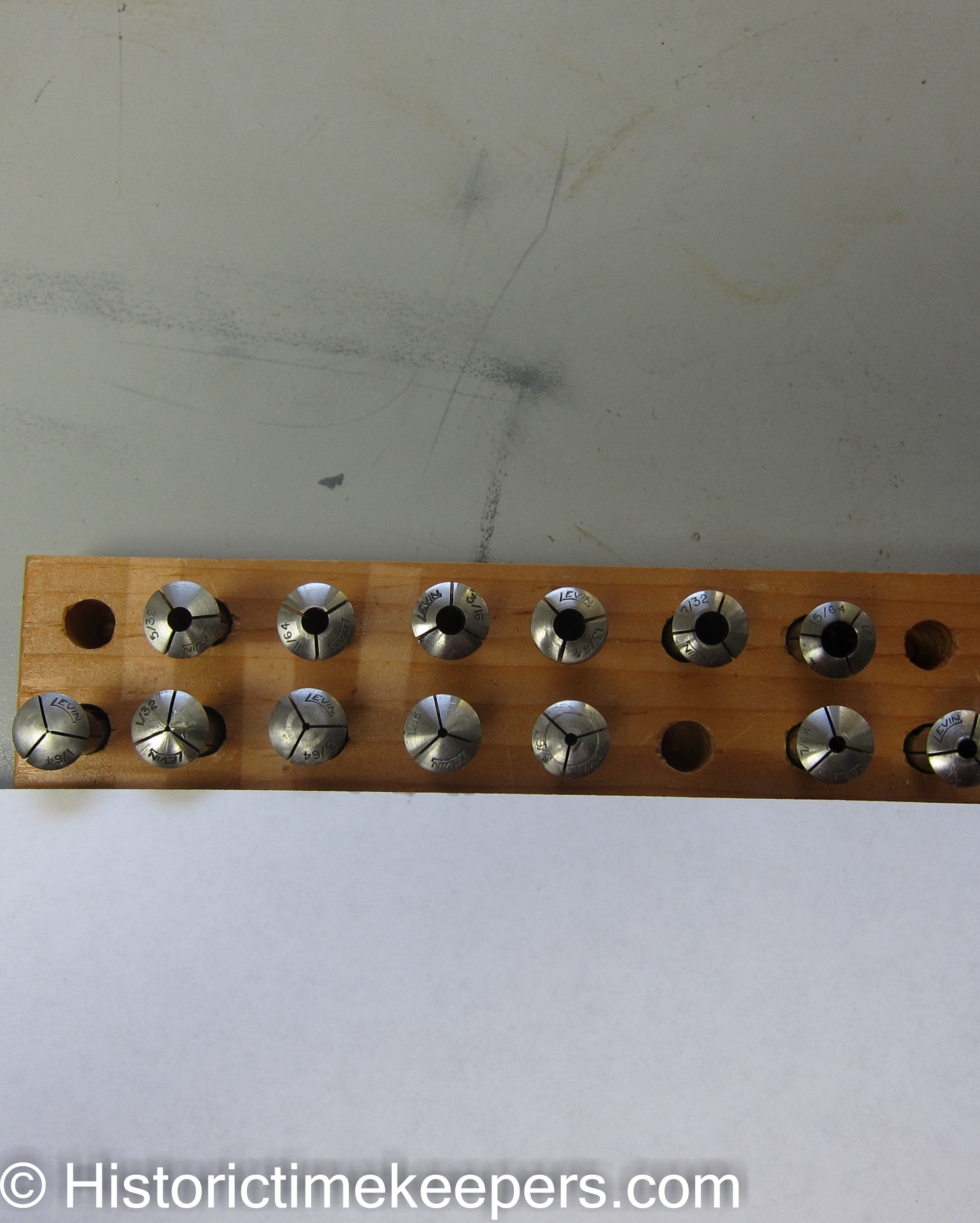 Full Set of WW 8mm lathe collets. (Retired Watchmaker) Set of 48 metric collets from .3mm to 5.0 mm. All but two are hardened; the two soft collets (31 & 32) are Starret (two lines) Four are unmarked but hardened (single line), two are Schaublin (S), one is Deryshire (D) and the rest of the set is Peerless. These collets are used but not abused. The nice thing about Peerless collets is that their keyway is one of the deepest enabling them to fit most headstocks without modification. Collet tray included. The picture includes the fractional collets listed above; but there are NOT included; just the set in the bottom 7 rows (there are 3 extra collets).
Price: $525 SOLD!!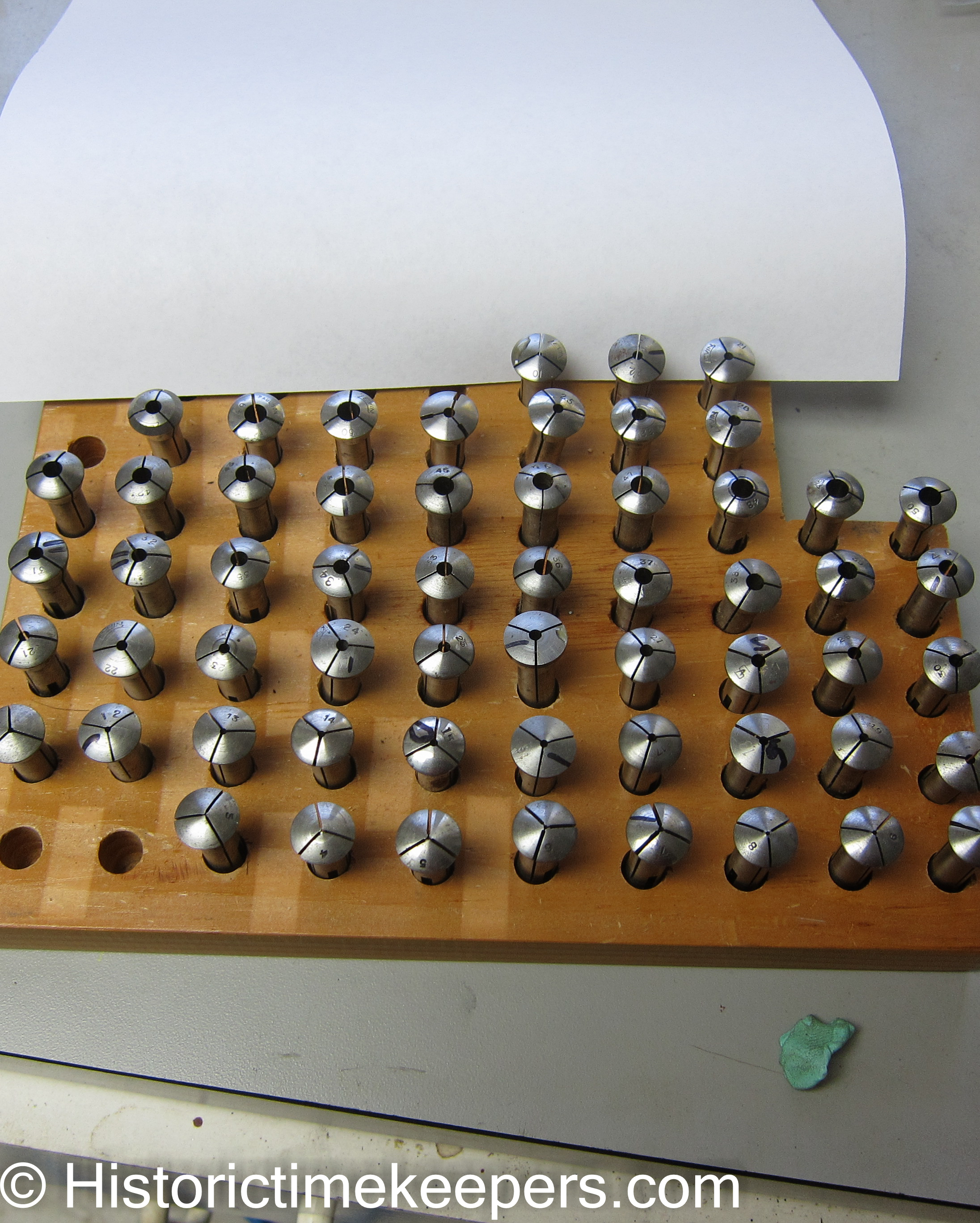 L&R Varimatic Ultrasonic Watch Cleaning Machine. This machine is perfectly good for all but final cleaning (for those with Swiss service accounts). It was the workhorse of the industry for 45 years. No leaks, synchronized with extra ultrasonic base and tubes. I used this for at lest 12 years and I no linger use it since I needed a 4 jar machine for my account. I would prefer to meet within 2 hours drive of Baltimore so we avoid the hassles of shipping. Jars, instructions and a basket included. I have an extra base and tube I kept for spares as well which are included.
Price: $325 SOLD!!!
Bergeon Automatic Watch Tester. (Retired watchmaker) This is required for any Omega or Rolex account. It is used to test the autowind function of watches by running them on it for a specified period and then checking the amplitude (see MU 700 below). The labels indicates it is a Final Test (1rpm) but it is in fact 4 RPM Cyclotest which is preferred for Omega accounts. Boxed and complete. (But Bergwon packing is like putting worms back into the can).
Price: $435
Alina 90 mm 6 Jaw Scroll Chuck with Machinable jaws 10MM mount. Excellent Alina scroll chuck; used for holding round work (plates, wheels, bezels) for machining. Once you cut inside or outside jaws absolute truth on your lathe is ensured. Smooth scroll. This takes a standard mount and can be used on a Levin, Schaublin 70, Schaublin 102 or even a machine that takes 5C collets. It is mounted on a 10mm arbor suitable for a Levin, Derbyshire or Pultra 10mm lathe.
Price: $475 plus shipping SOLD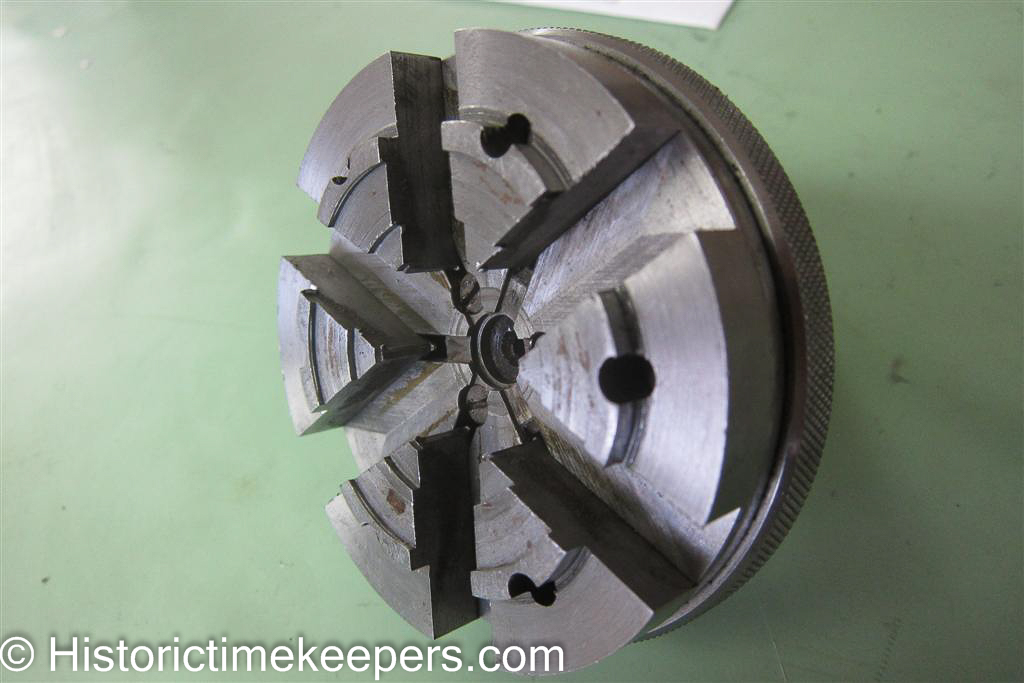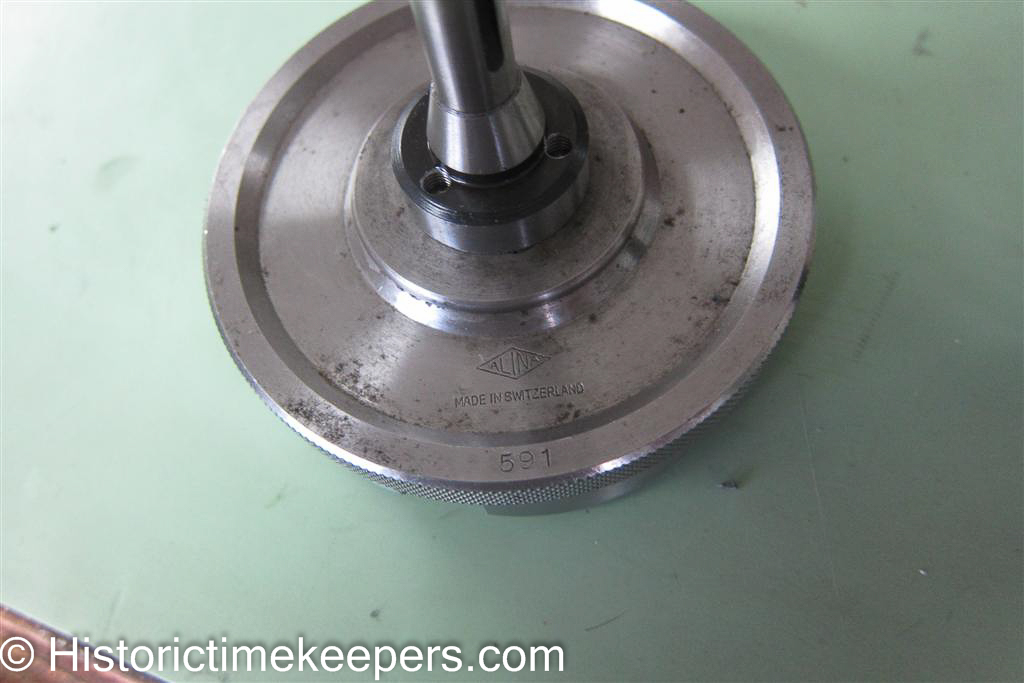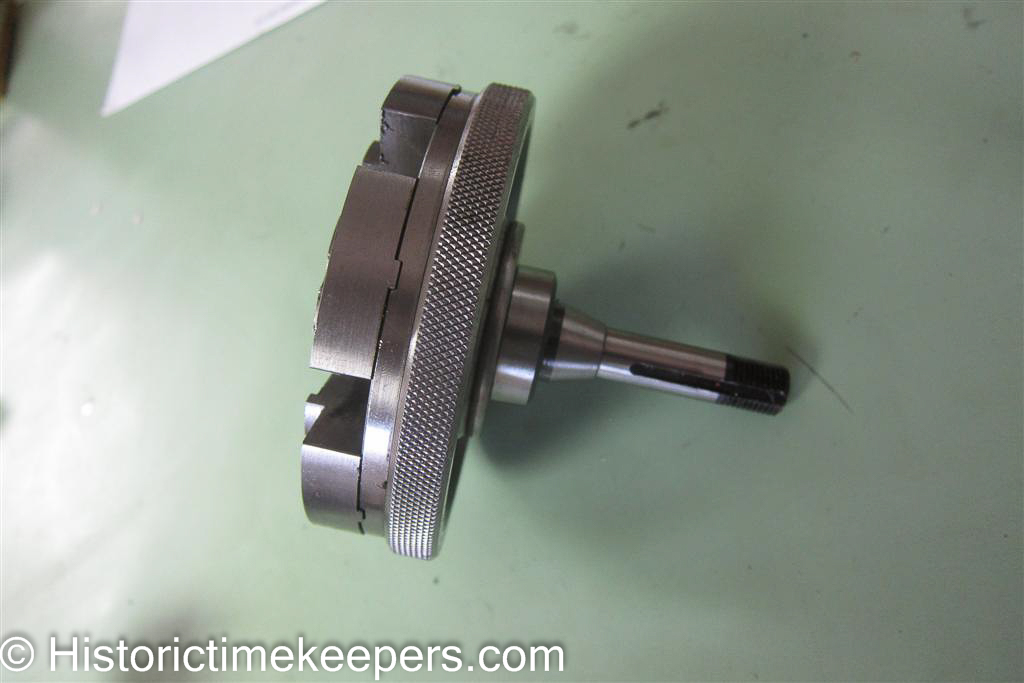 Schaublin Pump Oiler. This is essential for oiling most Swiss Machines and are very hard to find. The nipples on Swiss machines and accessories are often confused as grease nipples; but they are for the pump oiler, Unscrew the top, fill with oil. place on the nipple and pump. The fitting seals against the nipple and forces open the ball which keeps dirt out of the machine's oil port.
Price: $75 SOLD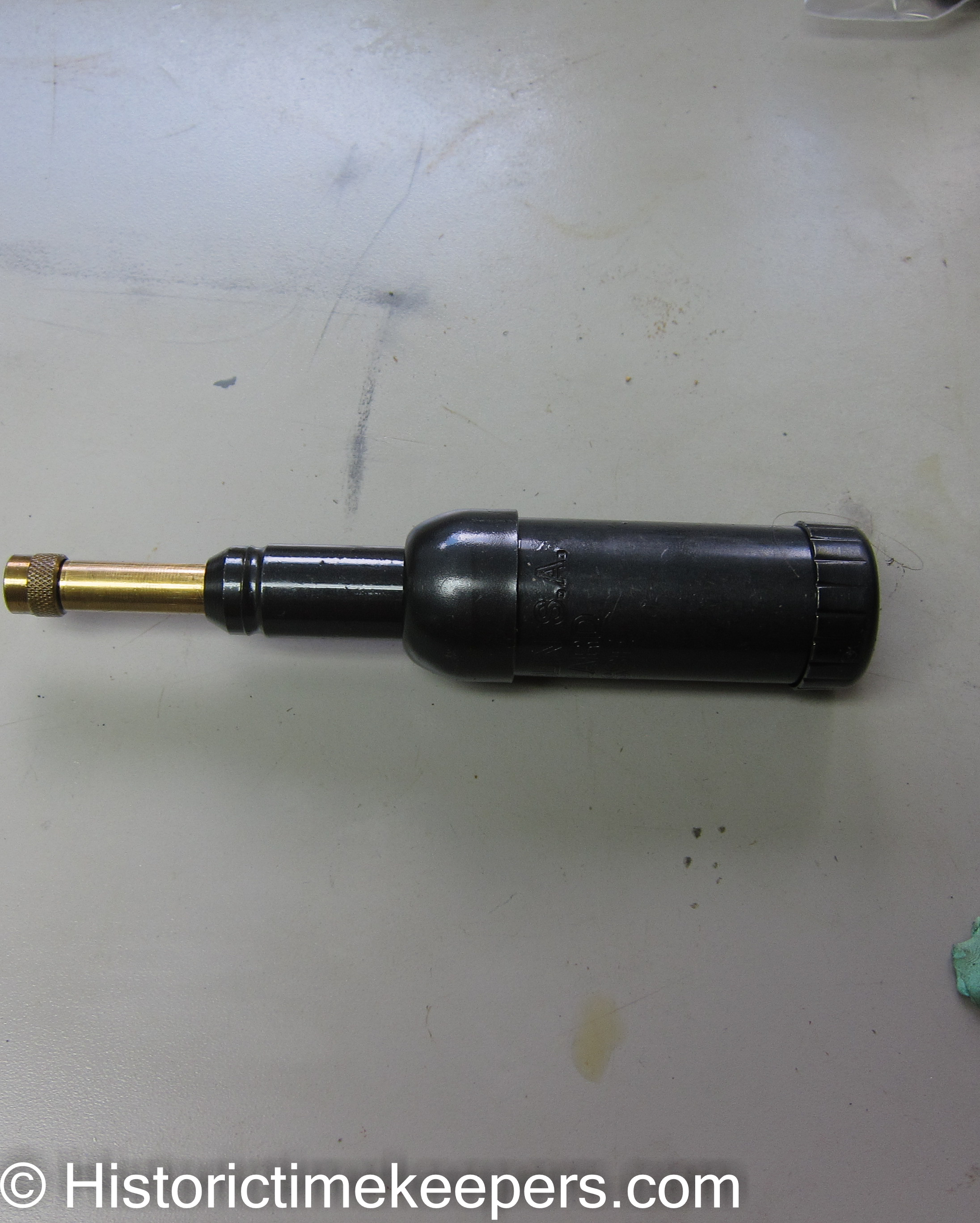 Levin 10mm Lathe and Accessories. This is a setup I have not used in years. Time to sell it. I had new bearings installed about 8 years ago. If there are 200 hours on them I would be surprised. There is a complete set of collets that were in the individual tubes when I purchased them. Several chucks and all sorts of specialty collets. This is the lathe I used for for making pinions and wheels in conjunction with the Levin Index plates and RJS Horizontal mill listed below. Because of the number of pieces, I am giving this setup its own page: Levin 10mm Watchmaker Lathe for Sale
Schaublin Sensitive Drill Press Complete with Collets, Motor and Drills. In absolutely perfect condition. The drill presses are hard enough to find, but without the F collets (F7 for this model) they are useless. As you can see, I was able to buy the collets I needed when these were still "easy" to find. I have owned this for about 20 years and used it extensively. This is why it is mounted on an aluminum plate with variable speed AC motor footswitch and the collet rack. Might as well work like a gentleman. There is roughly a 5 inch maximum clearance between the collet nut and the table. Table has a micrometric screw for adjusting the depth of hole and the table rises smoothly with no discernable play. Includes drill in roughly .05mm increments form .30mm to 2.0mm. The drill shanks are standard sizes to which the collets are matched. NO, this will not be broken up.
Price: Sold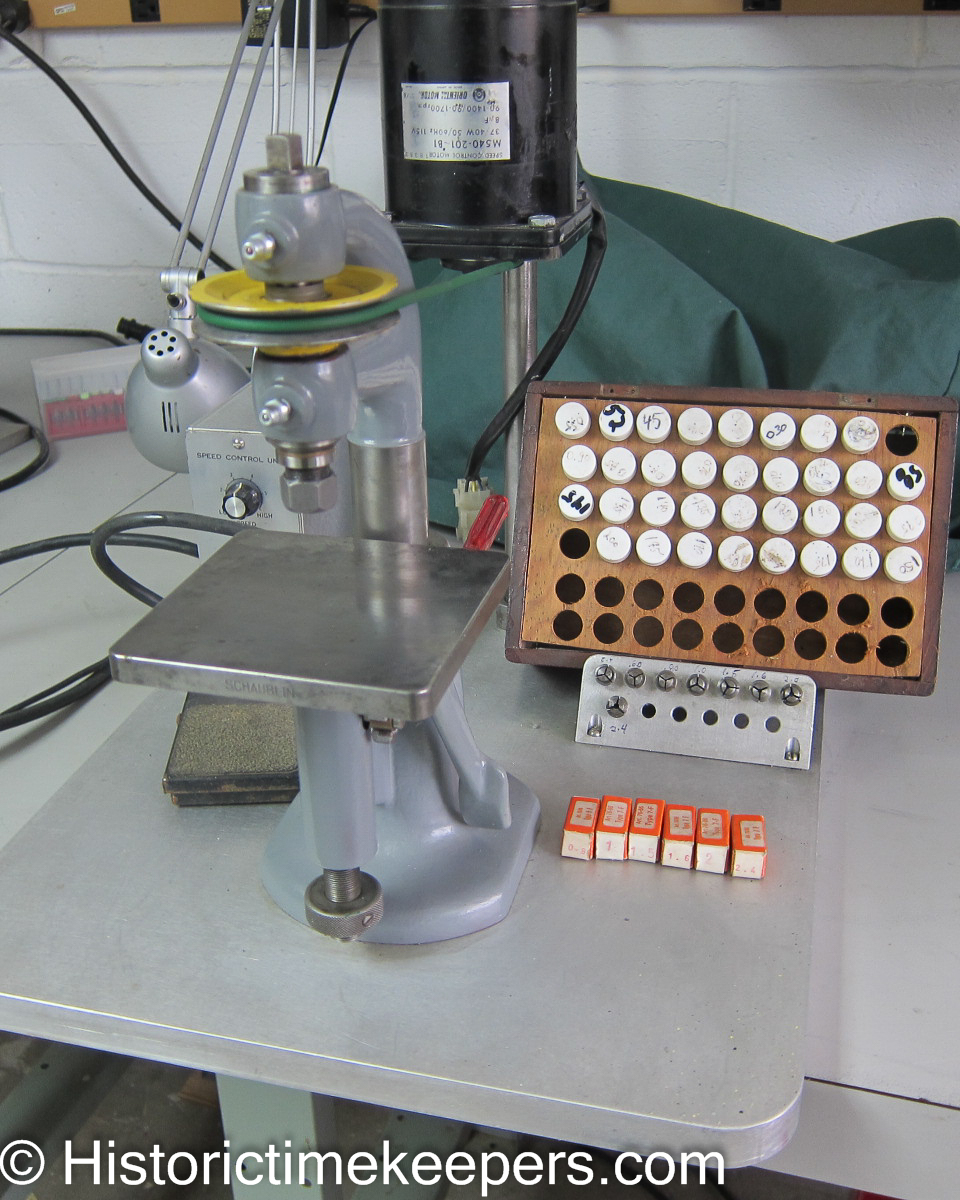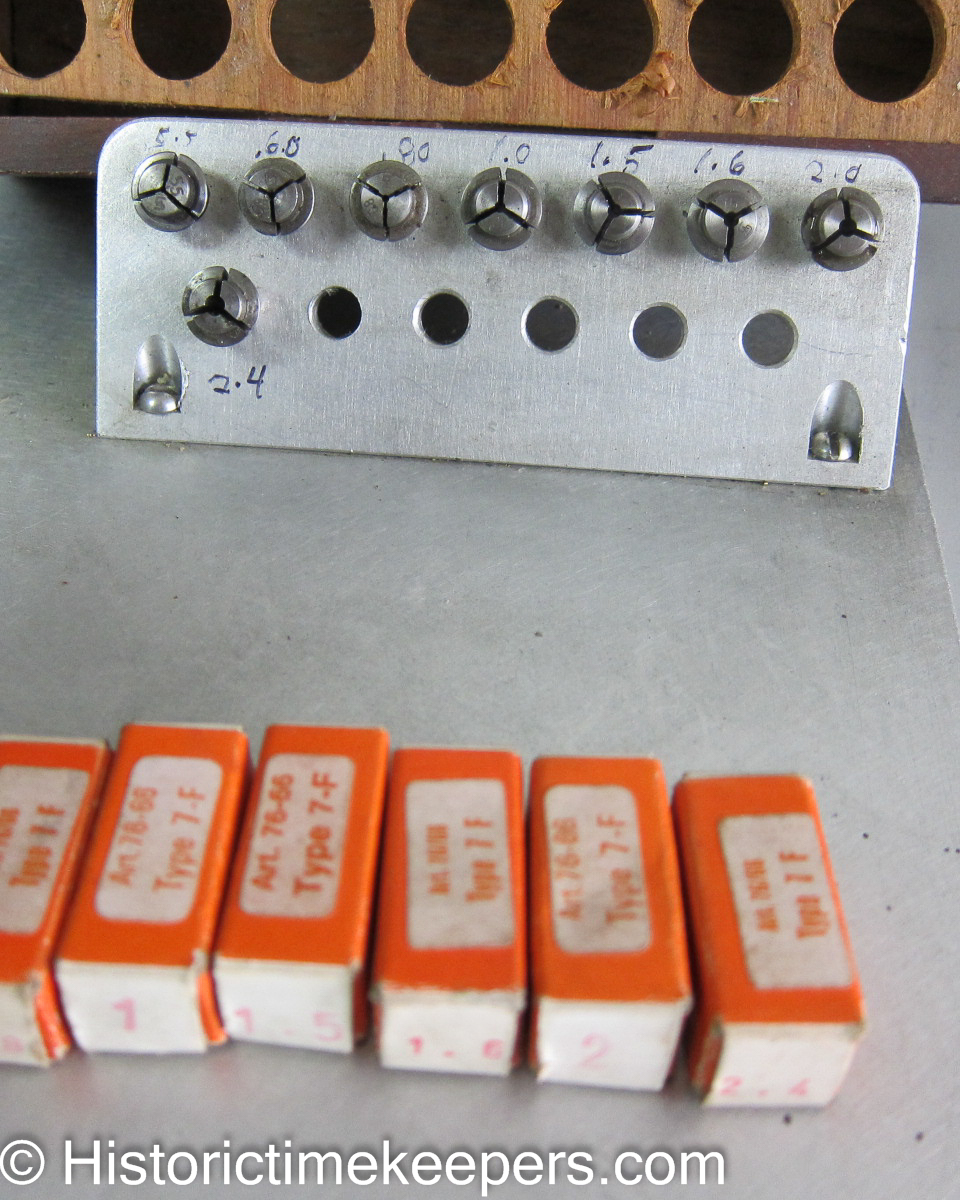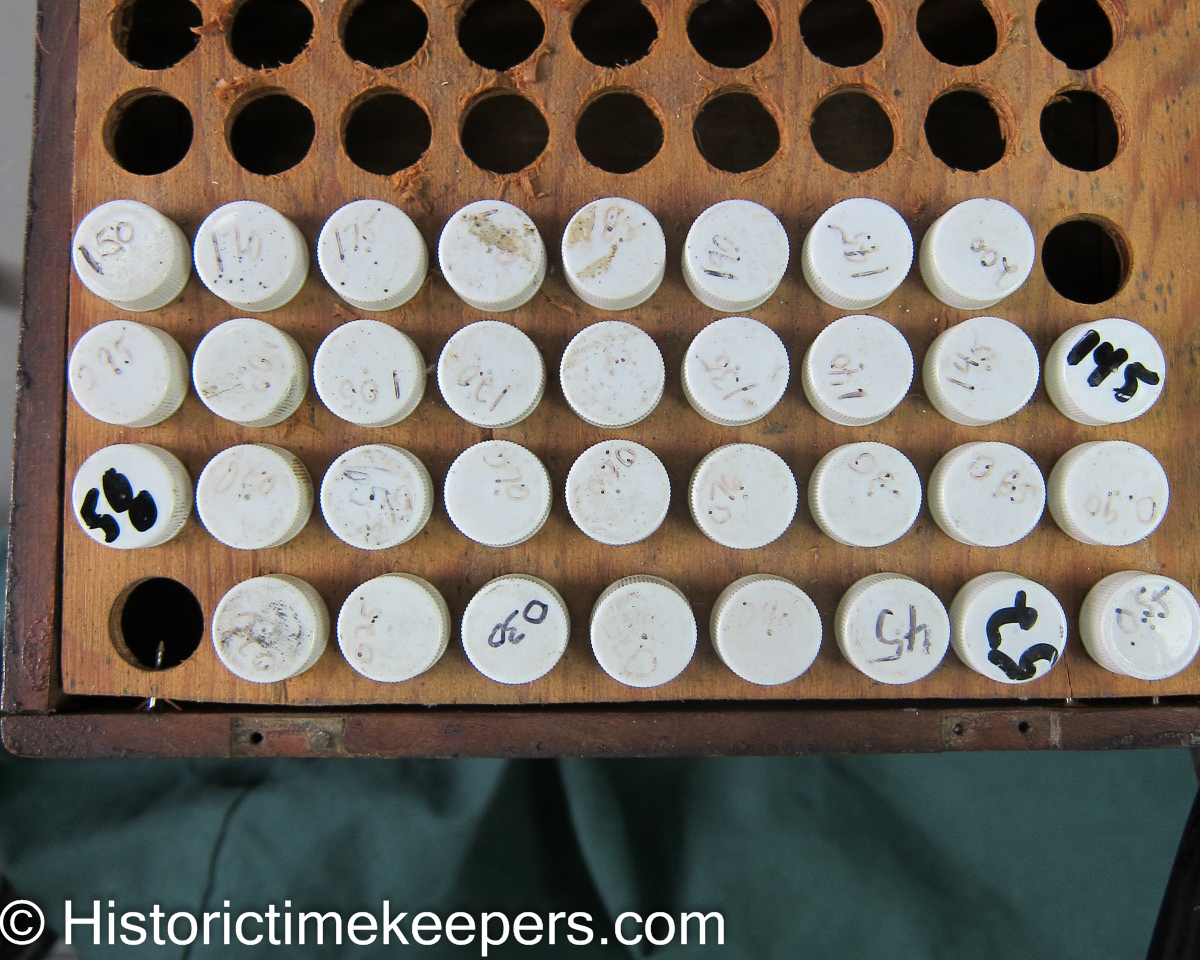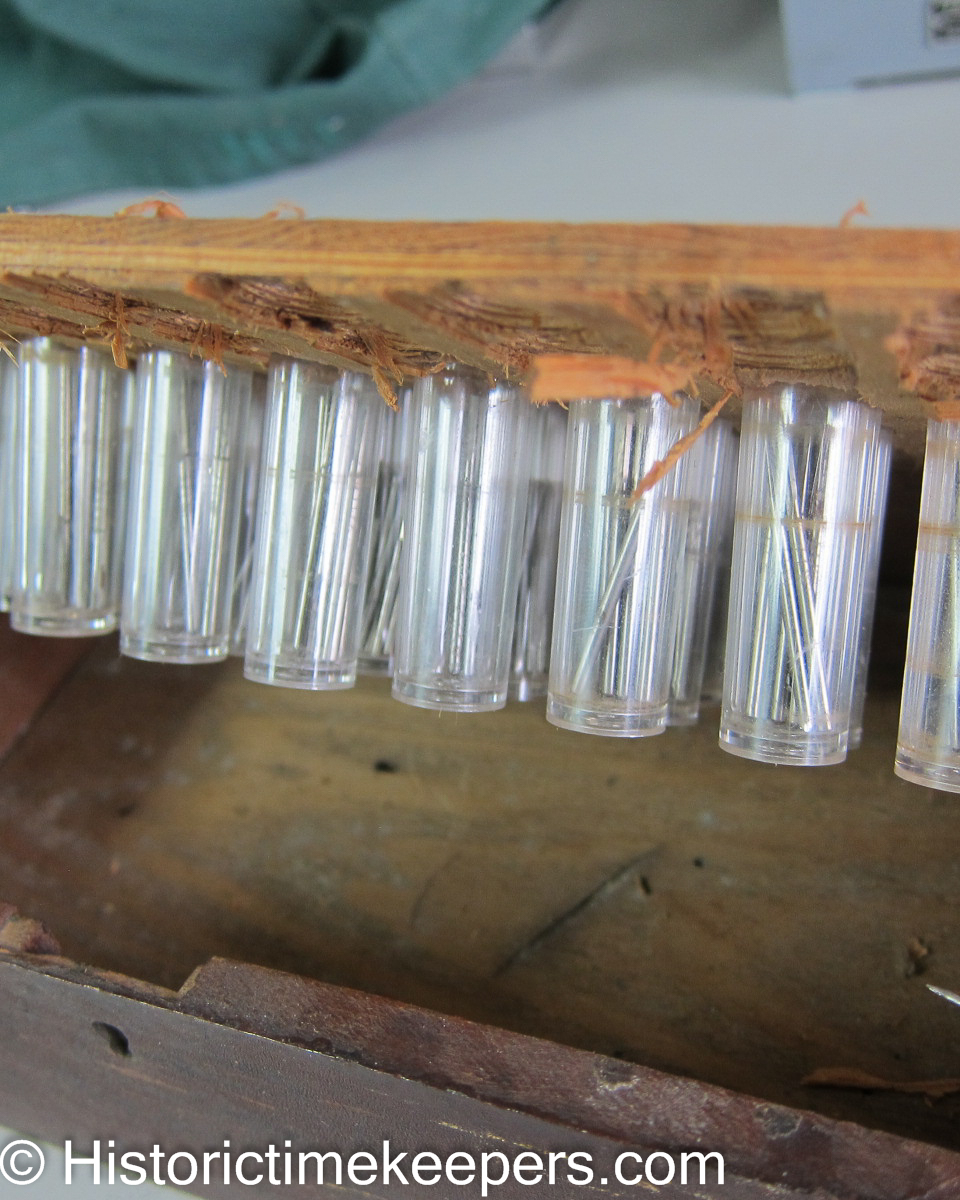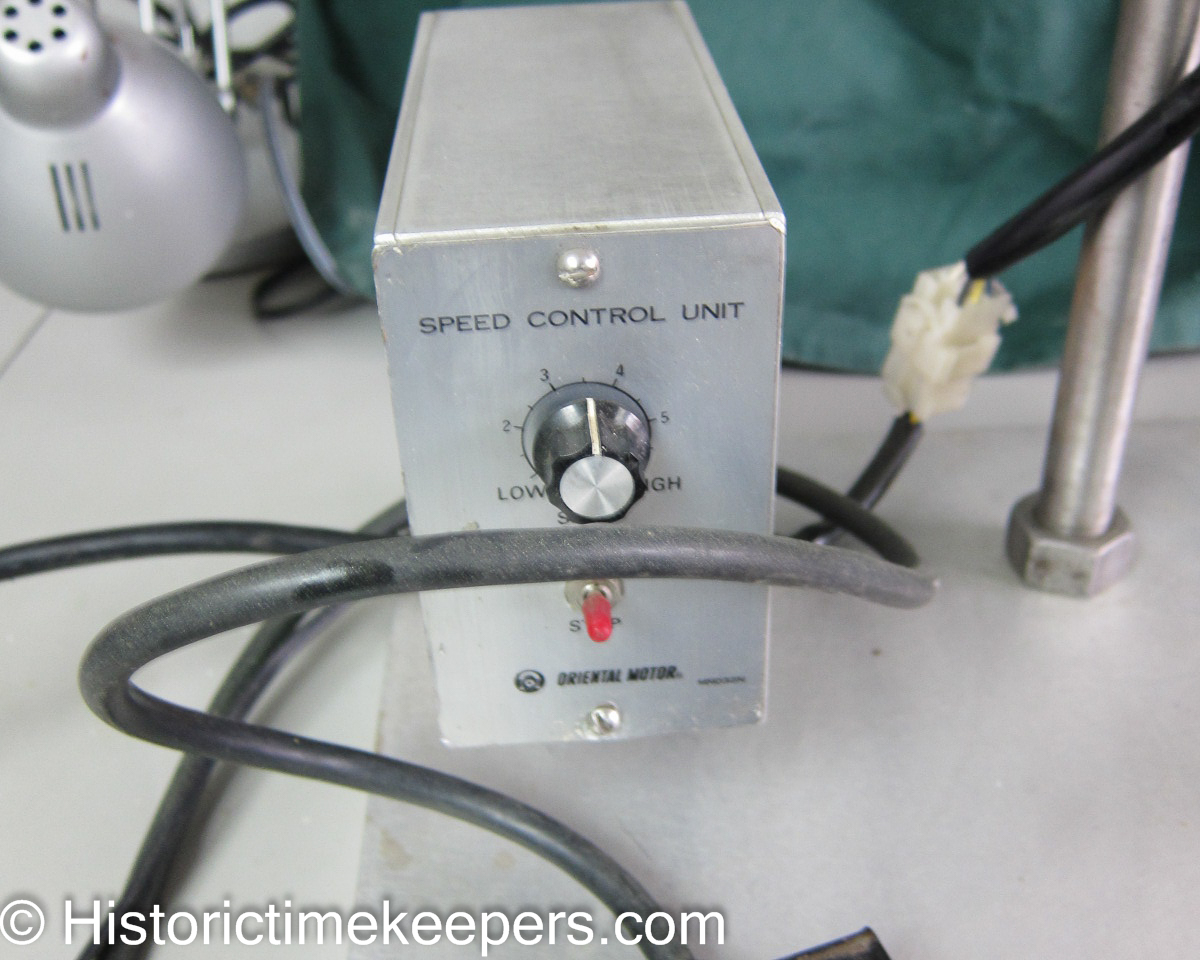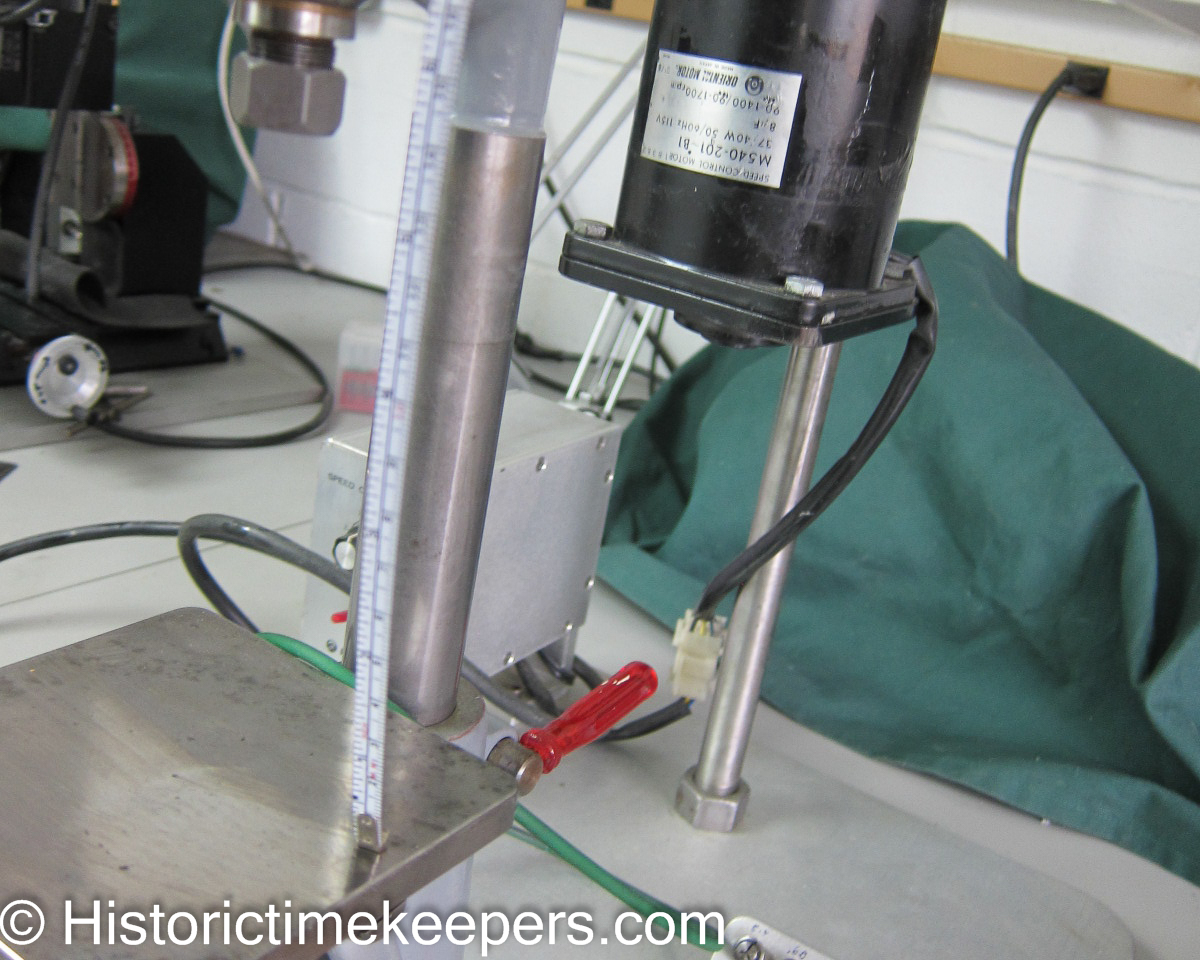 Levin 72 MM (JF Swiss) Self centering 3 jaw chuck with hardened, reversible jaws Excellent condition; mounted on a 10mm chuck collet for use in a Levin, Derbyshire or Pultra 10 mm lathe. Can be remounted for use on other machines. Smooth scroll.
Price: SOLD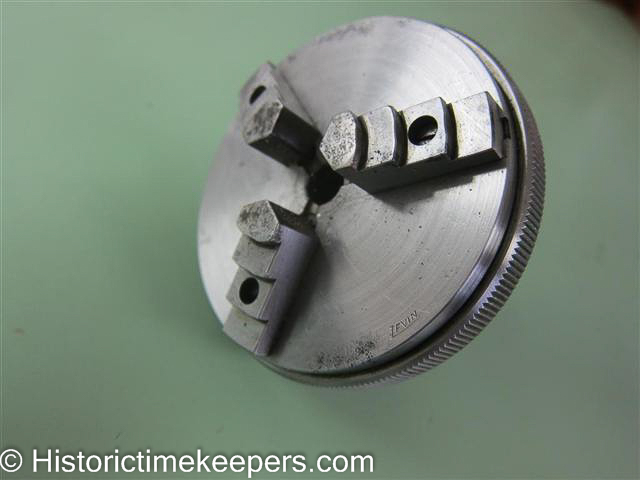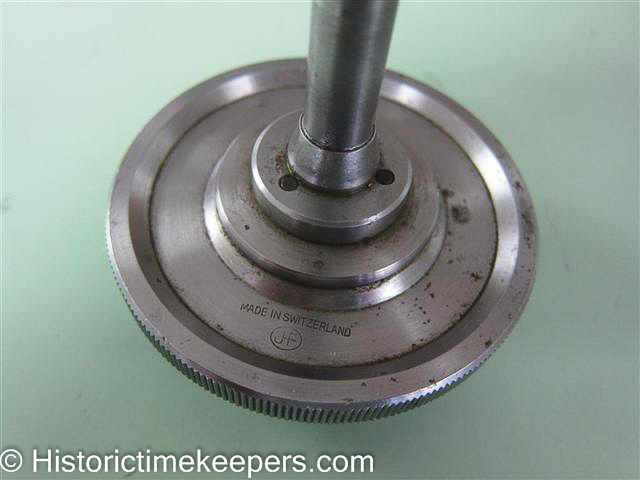 Solid Carbide Twist Drills These are REAL twist drills, not circuit board drills!! Circuit board drill are really made for use in CNC machines on plastics and phenolic (circuit board material). They have a fast twist which reduces their strength and rigidity. These solid carbide twist drills have the slow twist which increases the material in the drill web and makes them strong and rigid. Available from 50/100 mm to 2.00 mm by 10/100mm steps.
Price: No Longer Available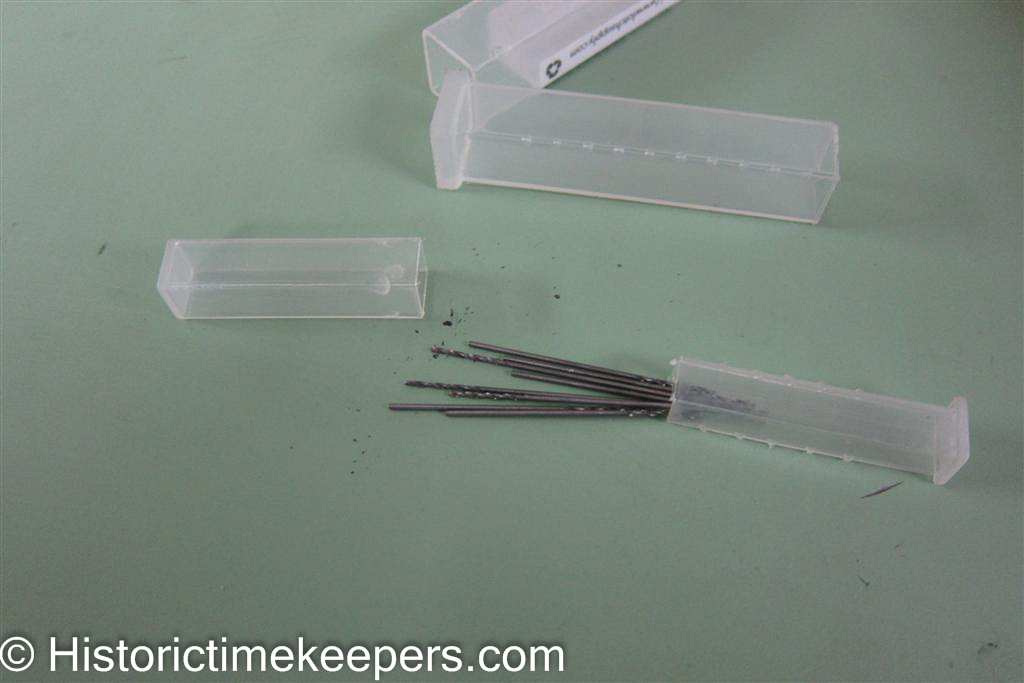 Steiner Jacot Tool (Current Pattern) This is a complete Steiner Jacot (tour de pivot) made by Mr. Thiebault in the late 1970s early 1980s before he sold the business to become Horia. Horia kept the castings and specifications of Mr. Thiebault and they will provide new runners, and accessories. This set also includes the spare lanterns (for finishing pivot ends) should either of the original lantern heads get damaged. Every runner and lantern is in perfect condition; this tool came from a watchmaker how to use it! Two pivot and lantern runners that cover 4/100mm to 36/100, a double ended runner for 35/100 mm to 1.20 mm, and the seconds pivot arbor from 15/100 mm to 35/100 mm. Two stationary runners (4 sizes) and a pivot gauge.
These sets are getting very hard to find since the resurgence of classically trained watchmakers from schools run by Wostep, Patek Phillipe and Richemont. Much of the current production is now going to new schools, high end manufacturers such as Gruebel Forsey and recent graduates who are able to pay price for new sets (about $2300 USD).
Price: SOLD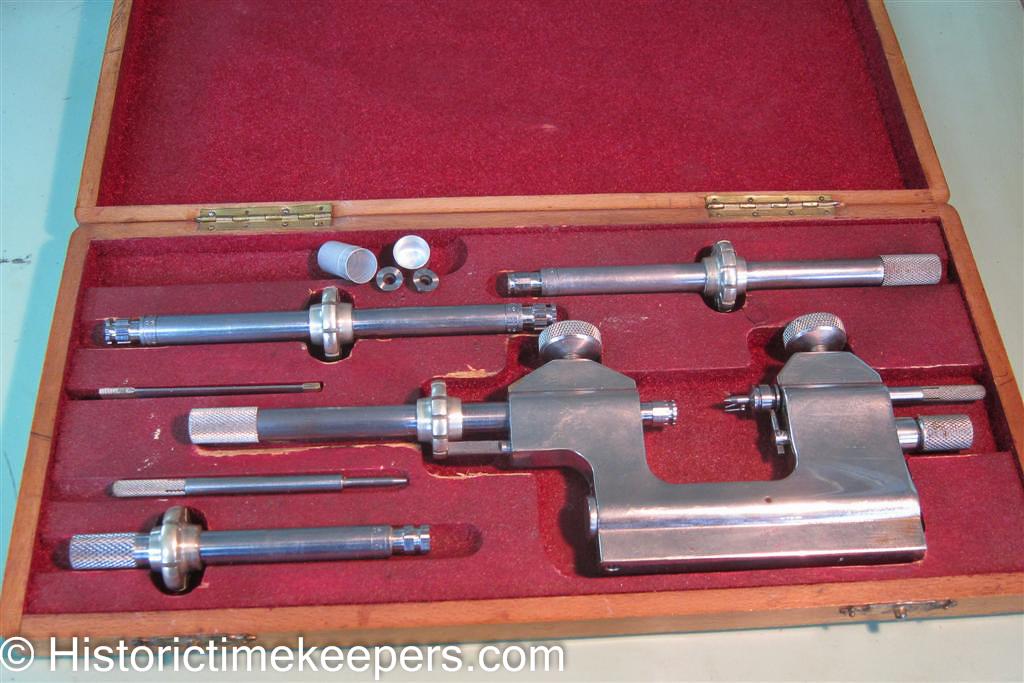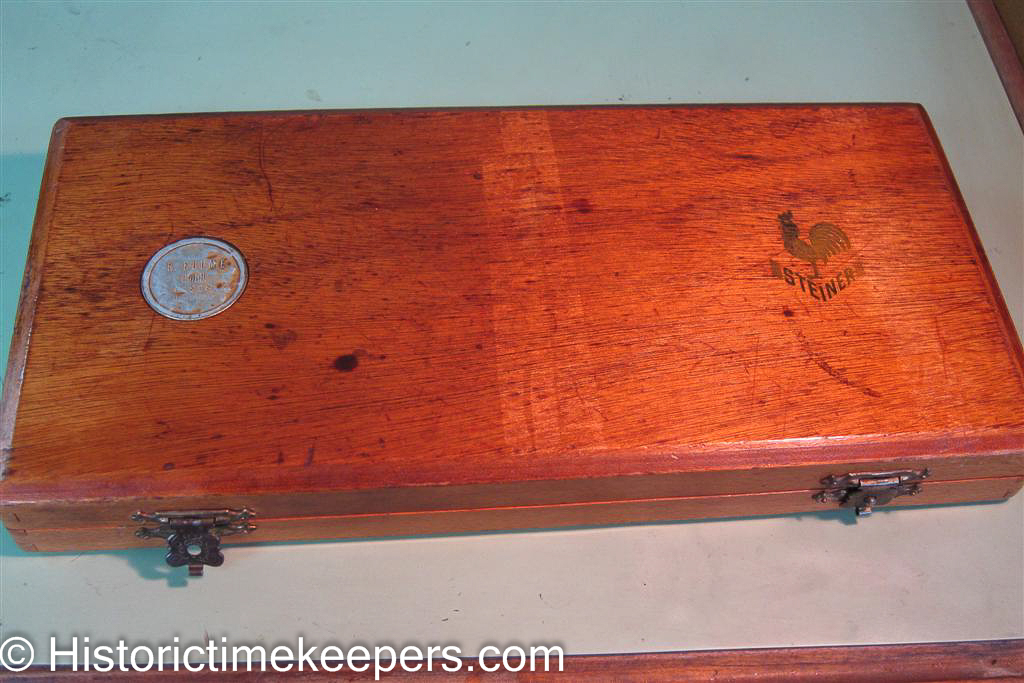 Horia Jacot Tool This is a complete Horia Jacot tool used to burnish (polish) pivots. It is complete and all runners and lanterns are in excellent condition. It also includes a burnisher. These are now over $2300 new from Horia and there is a waiting list.
Price: SOLD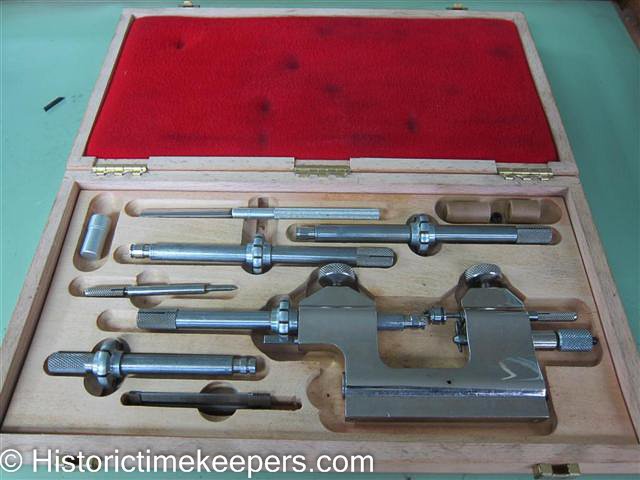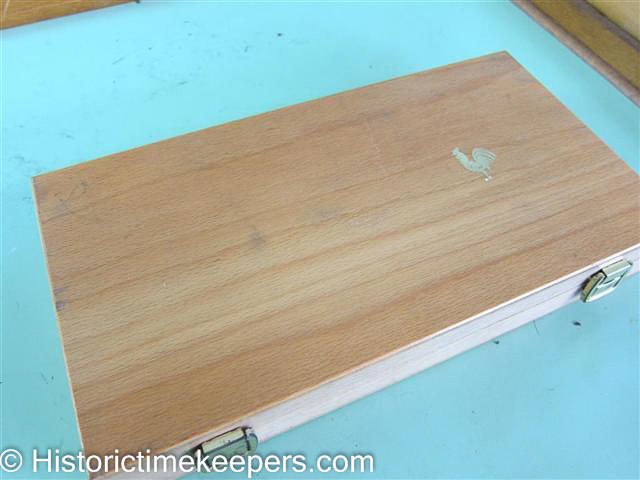 Schaublin 102 W20 Milling attachment complete with vertical slide Mounts on a Schaublin or Habegger 102 lathe and is used for cutting gears and pinion as well as general milling tasks. The spindle is absolutely free and true. The collet bore is immaculate. This setup came from a job shop and the vertical slide has been drilled and tapped to take a fixture used to manufacture something. Two tapped holes and two dowel pin holes. These have NO impact on function and they are hidden when the spindle mounting plate is installed. The mounting plate has a tapped hole in the bottom that is not original. Again, does not impact function. There are two advantages to this. First, you can mount a vise on the slide and use an endmill in the lathe headstock. Second, since the vertical slide was used for a single operation, there is very little (none?) wear on the leadscrew and nut. Two pulleys, the round belt pulley and the a cogged belt pulley are included.
Price: SOLD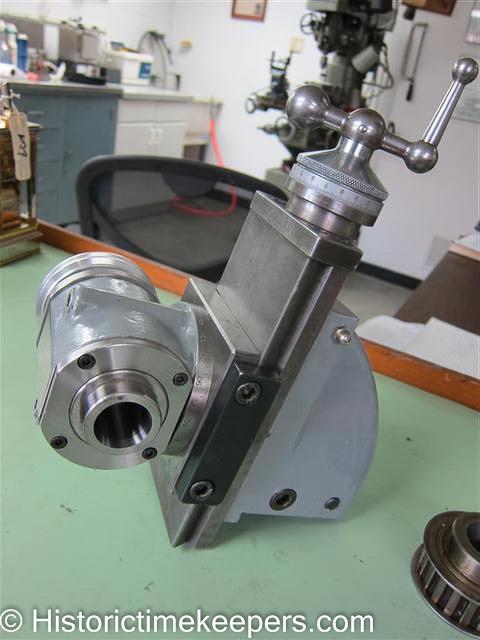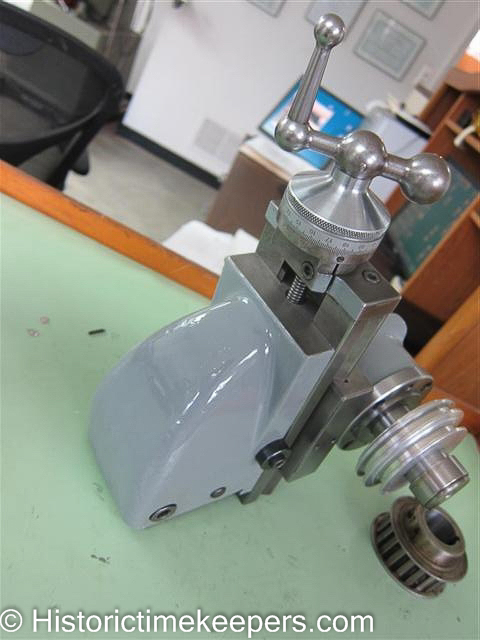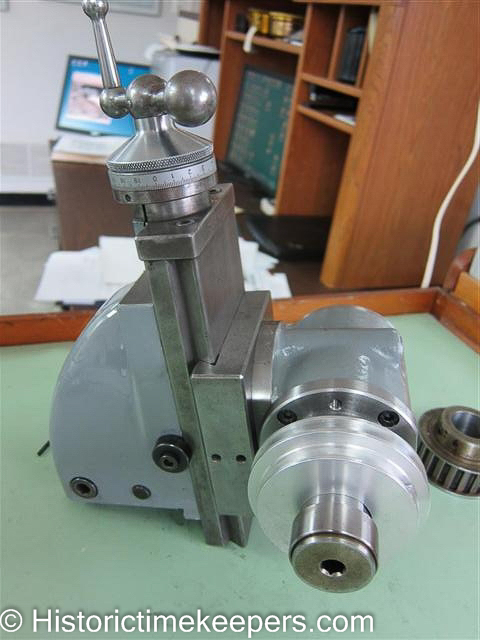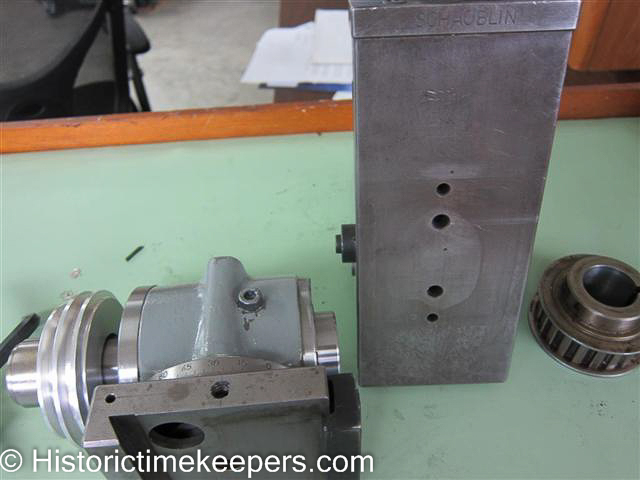 Swiss Mainspring Winders Boxed set of 17 mainspring winders made in Switzerland for wristwatch to pocket watch mainsprings. Some extra barrels and arbors. Excellent condition.
Price: SOLD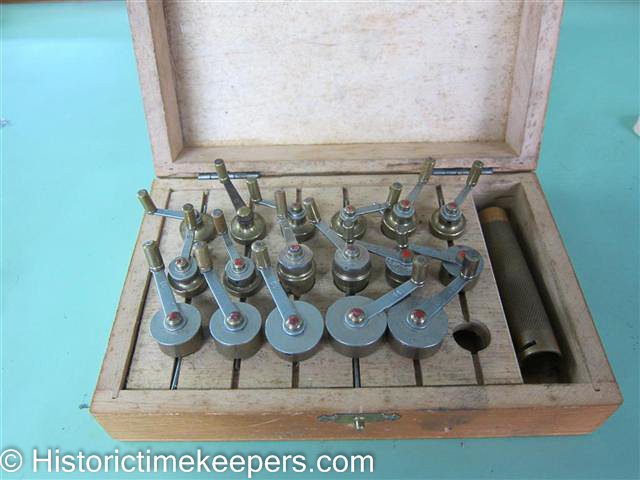 L & R Parts Dryer At $400 new these are overpriced. But at $100 they are very useful. Large enough for clock parts to be dried after they have been cleaned and rinsed, it is small enough to be near the bench so that you can warm pallets and escape wheels to avoid rust from the rapid evaporation of the solvent when you apply epilame.
Price: SOLD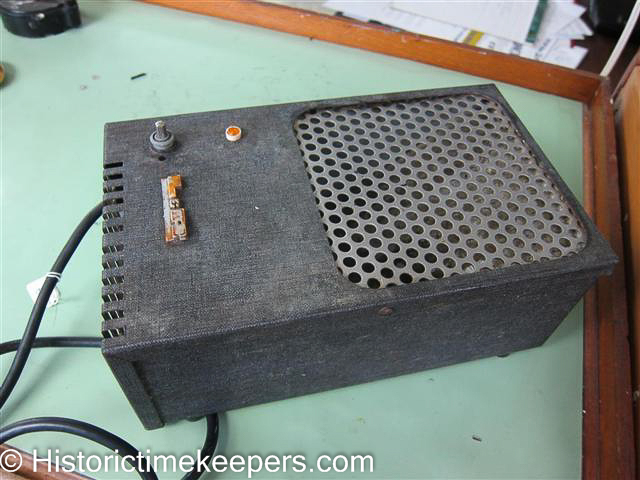 Barkus Diamond Wheel and Barkus Gravers Plenty of life left, the wheel fits your WW collet. Absolutely the best carbide for for hand turning. Lots of carbide left; various shapes and the slotting/parting cutter.
Price: SOLD